Grab, Singtel Target Singaporeans Overlooked by Banking Giants
(Bloomberg) -- The large number of Singaporeans still without good access to financial services will be key to creating a successful digital bank in the country, according to executives from Grab Holdings Inc. and Singapore Telecommunications Ltd.
"We do feel very strongly that we can make a bit of a difference in Singapore. There are real needs that need to be met," said Arthur Lang, chief executive officer of Singtel's International Group.
On Monday, Grab and Singtel said they are teaming up to apply for a full digital banking license before the year-end deadline, jumping aboard a Singapore government initiative to attract technology firms into its financial sector to stimulate innovation and competition. The move brings together one of Southeast Asia's largest operators of online businesses from food delivery to car-hailing with Singapore's largest telecommunications firm.
While Singapore has strong, well-established banks, and is better served than other Southeast Asian countries, there's still a significant minority of small- and mid-sized companies and individuals seeking cheaper and improved services, executives from the two companies said in a joint interview.
They pointed to a recent study which showed 38% of Singaporeans are under-banked while another 2% have no access to financial services.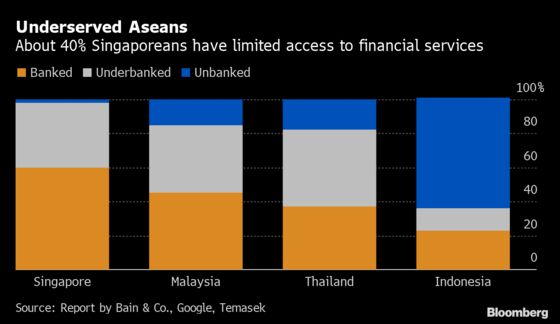 There's also a "huge" funding gap for small- and medium-enterprises in Singapore, according to Reuben Lai, senior managing director of Grab Financial Group, the subsidiary which would take a majority 60% stake if the venture is granted a license. Singtel would hold the remaining 40%.
The service provided by existing banks to smaller firms tends to involve layers of hidden fees and poor support for managing and growing the business, according to a joint presentation by Grab and Singtel on their license bid.
Still, Grab and Singtel will be up against local and international financial institutions such as DBS Group Holdings Ltd. and Citigroup Inc. that dominate the lending landscape. "We are fully aware that banks are very well run," said Lang.
The two companies declined to provide profit forecasts, but expressed confidence that the venture would be successful financially. The Monetary Authority of Singapore "wants to see a business that's sustainable. That's core for our mission," said Lai.
"At the end of the day when we go back to our shareholders to make the case it has to be driven by numbers and returns," said Singtel's Lang.
Another headwind for the ventures is the relatively large amount of capital required by the MAS compared with some other jurisdictions welcoming tech firms into their banking sectors. Singapore's full banking licenses require capital of S$1.5 billion ($1.1 billion), while Hong Kong has set HK$300 million ($38.5 million) as the minimum capital for its new breed of digital banks.
Several other groups have expressed interest in applying for one of the five new licenses, including billionaire Alibaba founder Jack Ma's Ant Financial, gaming gear-maker Razer Inc. and Oversea-Chinese Banking Corp. The MAS has said it will award two full bank licenses and three wholesale licenses limited to serving corporate clients only.
Singapore's capital "rules are quite stringent to make sure that this is done properly," noted Lang. Grab will fund its share of the capital requirement from its balance sheet, added Lai.
Grab and Singtel have another advantage in their large existing customer base, the executives said. Singtel has about 4 million Singapore subscribers for its telecom services; Grab's app has been downloaded onto more than 166 million mobile devices in Southeast Asia.
"While we come from a very different background, one common goal is really to use technology to enrich the experience of the consumer," said Lai.