Gopuff Takes on Crowded Europe Delivery Field With Dija Deal
(Bloomberg) -- Gopuff is pushing further into Europe's competitive delivery landscape with the acquisition of British startup Dija, the U.S. company's second takeover on the continent this year. 
The company, founded in Philadelphia in 2013, has carved out a niche in ultra-fast deliveries of groceries and essentials, a market that its European rivals are just starting to explore. Gopuff -- which bought another startup, Fancy, in May -- will have a presence in the U.K., France and Spain once the deal is completed. Gopuff declined to disclose terms for the Dija deal. 
"We've spent eight years building out technology to power this end-to-end hyper-local-logistics network," said Daniel Folkman, senior vice president of business at Gopuff. "We are new to the European market. We are not new to the category."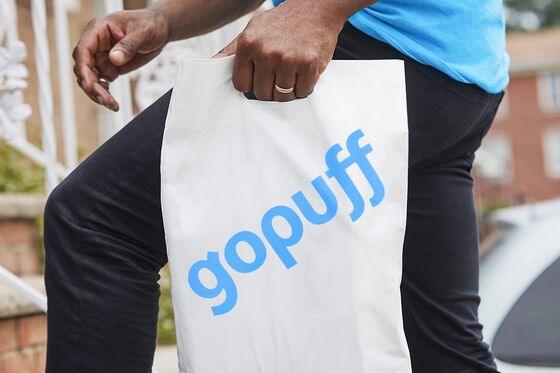 Food-delivery companies, which rose to prominence during the coronavirus pandemic, are working to expand into new businesses to maintain momentum and hold off competitors. Many are trying to break into deliveries that send groceries and convenience items to customers within 10 minutes. This business model has to be supported with more intensive infrastructure, such as small warehouses that hold the most popular products located near customers.   
Gopuff has more than 450 of these sites across the U.S. and Europe. The company just raised $1 billion from investors at a $15 billion valuation and Folkman said it has plans to make further investments in Europe. It'll have to take on a bevy of well-funded rivals including Turkey's Getir, Germany's Gorillas and the U.K.'s Zapp. 
Along with the acquisition, Gopuff is bringing on former Revolut Ltd. Chief Operating Officer Steven Harman and ex-Amazon.com Inc. executive Alex Ootes to help lead its European operations, the company said in a statement. 
"The U.K., France and Spain are three countries where the demand is high, consumers want this service and they haven't been able to get it," Folkman said. 
The deal is expected to close within 30 days, according to the statement. Through Dija and its previous acquisition Fancy, Gopuff will have about 40 micro-fulfillment centers and 200 employees in Europe.