GOP Senator Cindy Hyde-Smith Wins Re-election in Mississippi Despite Racial Controversy
(Bloomberg) -- Republican Senator Cindy Hyde-Smith won re-election Tuesday in a Mississippi runoff that should've been an easy victory but turned unexpectedly competitive after a late-stage controversy.
She was projected by the Associated Press and NBC News to have defeated Democrat Mike Espy, a former congressman and Agriculture secretary under President Bill Clinton. Hyde-Smith won 54 percent of the vote compared to Espy's 46 percent, in what analysts said was an unusually slim margin for a Republican in the ruby-red state.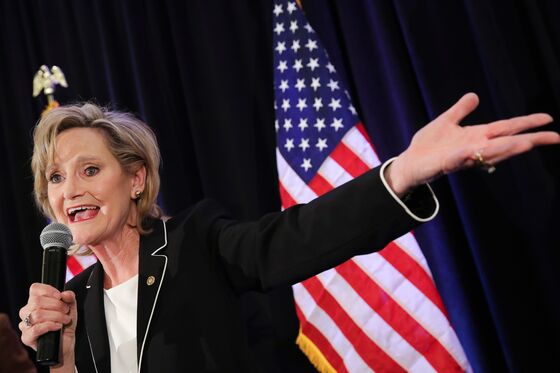 Hyde-Smith's victory secures the party's 53rd Senate seat for the next two years, compared to 47 for Democrats, up from the current 51-49 Republican majority.
"When you have a three-vote cushion it's a great help," Roger Wicker, Mississippi's other senator, also a Republican, said in an interview. "We've seen how dicey things can get with a one or two vote majority."
The contest gained national attention after Hyde-Smith triggered an uproar with remarks that critics denounced as racist and which led some prominent donors like Walmart Inc. and Major League Baseball to ask for refunds. But that didn't dissuade voters in deeply Republican Mississippi, the only state that still has Confederate insignia on its flag.
Hyde-Smith is a former state agriculture and commerce commissioner who was appointed in April by the state's governor after the sudden retirement of Republican Senator Thad Cochran for health reasons. She will serve the remaining two years of Cochran's term before the seat is up for election again in 2020.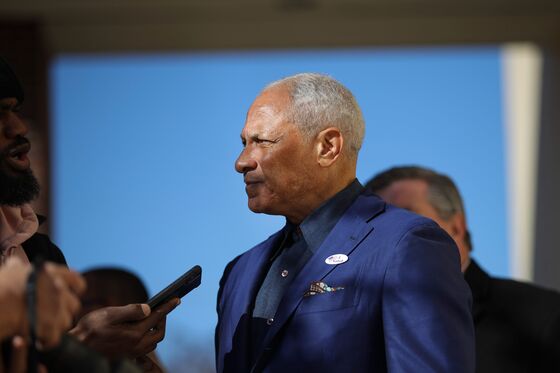 In the final stretch, she portrayed the contest as a battle of ideologies and was aided by President Donald Trump, who visited the state on Monday for two rallies, as well as GOP groups who poured resources in the final stretch to bolster her campaign.
Trump congratulated Hyde-Smith on Twitter late Tuesday night.
The additional help came after Hyde-Smith's campaign was rocked by revelation of her remarks at an event where she told a supporter that if he invited her "to a public hanging, I'd be on the front row." The comments were particularly controversial given that she was facing a black opponent in a state with a long history of racial violence, including lynchings.
Espy's campaign argued that Hyde-Smith's "toxic comments" were an embarrassment to Mississippi and could scare away economic investments.
Espy was able to mount one of the strongest Democratic statewide campaigns in Mississippi in years. The last Democrat Mississippians elected to the Senate from the state was John Stennis in 1982 for the final term of his four-decade career in the chamber. For much of that time he was an ardent segregationist.
The runoff contest drew comparisons to the Alabama Senate special election last year, when Democrat Doug Jones won a narrow victory against Roy Moore, after the Republican faced multiple accusations from women that he had molested them when they were teenagers.
Joe Trippi, a strategist for the Espy and Jones campaigns, said before Election Day that Mississippi would be tougher than Alabama because it's "rural and it's less urban, less suburban, and more conservative" as well as more polarized. He said the race was an uphill climb that required Democratic turnout to overpower GOP enthusiasm.