GoodRx CEO Shrugs Off Worst Month With Stock Below IPO Price
(Bloomberg) -- GoodRx Holdings Inc. has lost about $3.5 billion in value this month and while its earnings report ended a 10-day rout, the shares remain below their initial offering price.
The stock in the telemedicine and drug-pricing comparison software company rose 9.6% Friday to trade above $30, but that's below September's initial offering price of $33, representing losses for early investors.
The once-vaunted IPO, co-headed by Doug Hirsch, a former Facebook Inc. executive, and software entrepreneur Trevor Bezdek, has been hit by concern about mounting competition from Amazon.com. Even though the stock is on track for its biggest monthly decline in May, Hirsch said GoodRx's actual business is thriving.
"There is this perception that there is somehow a reflection between stock price and our performance," Hirsch said in an interview. "Things are going great here and I'm really, really excited about the rest of 2021."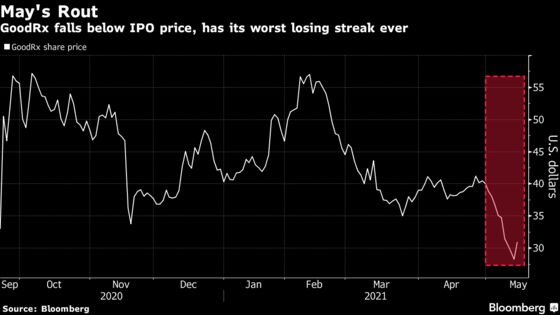 One of its top investors is Silver Lake Management LLC, which has backed GoodRx since before its IPO. Others include the banks that led the offering, such as Morgan Stanley and Goldman Sachs Group Inc.
Investors have long seen Amazon as a threat to GoodRx's discount cards and price-comparison platform for prescription medicines, even before the Internet behemoth said Tuesday it was rolling out plans on its Prime and Pharmacy platforms for customers to compare the costs of drugs online.
GoodRx's prices are lower than Amazon's nearly 100% of the time, Hirsch said. The internet giant is trying to make mail ordering prescription drugs stick, but it's still a tiny fraction of the market, he said.
As for GoodRx, "It's not just discount prescriptions; it's mail order, it's also telemedicine," Hirsch said. The company on Thursday reported earnings that met analysts estimates, though it also posted slowing growth in monthly users.
While some analysts on Wall Street have shrugged off the threat, Morgan Stanley's Ricky Goldwasser said investors were right to be concerned.
"The market should be paying closer attention to Amazon's more recent moves and the launch of Amazon Care, which complements its overall prescription strategy," she wrote in a research note.
The company's $50 million RxSaver acquisition, reported by Bloomberg on Thursday, did little to bolster the stock. First-quarter results "could feed into the bear pushback of defensive M&A," said SVB Leerink's Stephanie Davis, who rates GoodRx outperform and recommends investors buy on weakness.
Hirsch said the deal was more about bringing in people who understood the complicated marketplace for prescription medicines.
GoodRx isn't the only IPO to lose its luster. Others like Jessica Alba's Honest Co. and dating app Bumble Inc. dropped below listing prices this week as investors shunned risky assets.
"Our business is doing great," Hirsch said. "I don't see the storm clouds the market is portraying as bearing down on us."