Goldman Trading Rebound Falls Short While Blankfein Era Winds Down
(Bloomberg) -- Lloyd Blankfein's final earnings announcement showed the business where he started is back on track. The one that produced his successor is thriving.
Goldman Sachs Group Inc.'s revenue from fixed-income trading, where Blankfein's ascent began 36 years ago, jumped 45 percent in the second quarter, while investment-banking fees climbed to their second-highest level since the financial crisis. The firm said Tuesday that Blankfein will hand the reins to investment banker David Solomon on Oct. 1.
Solomon will take over a trading business that has recovered from a forgettable 2017, when it posted its worst performance of Blankfein's tenure as chief executive officer. Still, the bank's equities unit posted a surprise drop, while the firm's Wall Street rivals each reported gains in that business of at least 17 percent.
"Solid performance across all of our major businesses drove the strongest first-half returns in nine years," Blankfein said in the statement. "With a healthy economic backdrop and deep client franchises, the firm is well-positioned to invest in attractive opportunities to meet the needs of our clients and continue to generate earnings growth."
Profit topped analysts' estimates, driven in part by higher gains from its investing and lending business and a cut in the amount of revenue the firm sets aside for employee compensation.
The shares dropped 1.2 percent at 9:54 a.m. in New York trading.
"Beats driven by expense cuts and volatile revenue sources are unlikely to draw excitement from investors," UBS Group AG analyst Brennan Hawken said in a note to clients.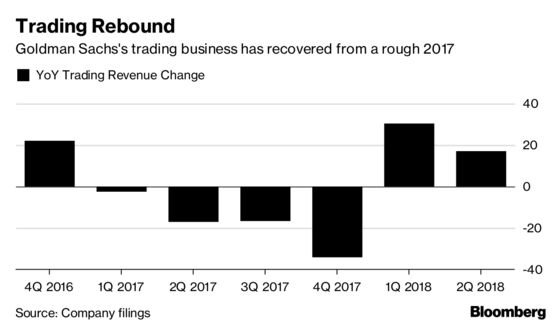 Fixed-income trading revenue rose to $1.68 billion, surpassing the $1.65 billion average estimate of analysts surveyed by Bloomberg. Equities trading declined $1 million to $1.89 billion, falling short of the $1.97 billion estimate.
"Goldman is executing well in a decent -- but far from perfect -- environment," Glenn Schorr, an analyst at Evercore ISI, wrote in a note to clients.
The firm posted $2.05 billion in investment-banking revenue, compared with the estimate of $1.85 billion. Goldman Sachs has been making a push to expand the number of companies it covers and setting up outposts in different parts of the country to snag new clients. Equity-underwriting revenue jumped 88 percent, and the firm said its backlog of deals was "significantly higher" than at the end of the first quarter.
Here's a quick summary of key numbers from the results:
Net income surged 40 percent to $2.57 billion, or $5.98 a share. The average estimate of analysts surveyed by Bloomberg was for adjusted earnings of $4.66 a share.
Companywide revenue advanced 19 percent to $9.4 billion, compared with the $8.76 billion estimate of analysts surveyed by Bloomberg.
Goldman Sachs's debt-underwriting revenue increased 14 percent to $1.55 billion.