Goldman Sachs Favors Microsoft Over Apple Amid Trade War
(Bloomberg) -- Goldman Sachs Group Inc. strategists recommended favoring stocks concentrated in the services sector rather than goods-producing industries as a way of weathering the U.S.-China trade war.
"The ebb and flow of U.S.-China trade negotiations during the past 12 months have had a more dramatic impact on the performance of goods-producing companies compared with services-providing firms," Goldman strategists led by David Kostin, wrote in a note. Last year's trading "suggests services-providing stocks will outperform goods-producing stocks as long as the trade dispute continues."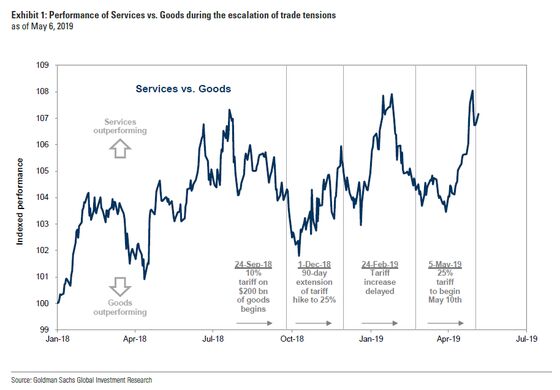 Investors got a fresh reminder this week of the market turmoil that U.S.-China tensions can cause, as risk assets swooned on threats by President Donald Trump to hike tariffs further on Chinese goods. The S&P 500 Index has fallen 2.3% over three days, the most since December. The U.S. and China are set to resume trade negotiations only hours before the new duties are scheduled to take effect.
Within the S&P 500, Goldman classified 260 stocks as being in services, including Microsoft Corp., Amazon.com Inc. and Berkshire Hathaway Inc. The strategists labeled 240 companies as goods producers, such as Apple Inc., Johnson & Johnson and Exxon Mobil Corp.
Services stocks benefit from fewer foreign input costs, a favorable inflation outlook, better growth and steady margins as well as stronger balance sheets, the Goldman strategists said.
Even if the trade dispute is ultimately resolved, "faster sales and earnings growth and more stable gross margins should support the outperformance of services stocks," they wrote.