Goldman Is Carving Out Less Revenue for Banker Bonuses
(Bloomberg) -- A big change is afoot inside Goldman Sachs -- aside from the disc jockey slated to become CEO.
The company just set aside an unusually small portion of revenue to reward traders and bankers. The move is reflected in the firm's compensation ratio, which took a surprising dive to 39 percent in this year's first half, the lowest level of the past decade. Chief Financial Officer Marty Chavez attributed the drop to the firm's emphasis on profitability. With revenue up significantly this year and the bank paying a lower tax rate, the rank and file can't be faulted for hoping some of the spoils would come their way.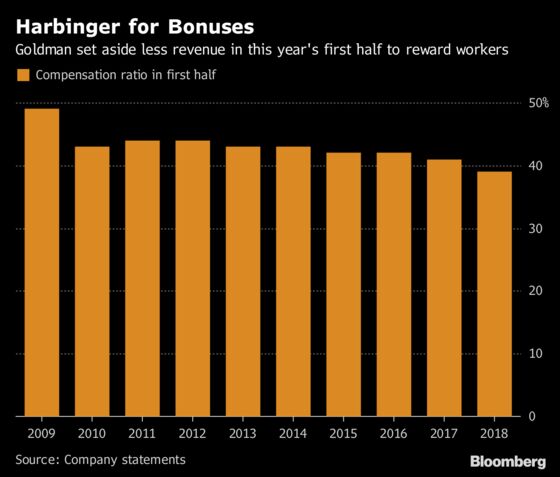 It didn't go unnoticed. Goldman Sachs Group Inc. is often a trendsetter on Wall Street, and if it cuts, others might too. After the firm posted quarterly results Tuesday, analysts peppered Chavez with questions about what it's doing with compensation, the company's largest expense item. The bank typically makes the most generous contributions to its annual bonus pool during a year's first half.
The tight fist in the second quarter helped it beat analysts' profit estimates. The move may have provided a 99-cent "tailwind" to earnings per share, bringing the total to $5.98, UBS Group AG analyst Brennan Hawken told clients in a note. Now, many in the market -- including Goldman's employees -- are wondering whether the firm may set aside more later.