Goldman Shares Slump as Wall Streets Finds Flaws in Earnings
(Bloomberg) -- Goldman Sachs Group Inc. shares dropped as much as 2 percent in mid-day trading, the most intraday since June 25, as Wall Street analysts picked apart the company's second-quarter earnings. They flagged expenses and a surprise drop in equity trading, and asked questions about Goldman's lending service Marcus on the company's conference call.
Goldman's "investment banking beat is positive, but other revenue/comp beats could be less sustainable," Morgan Stanley's Betsy Graseck writes in a note. Strong investment management fees may not continue, as this quarter's beat was primarily from incentive fees (up 290 percent year-over-year), she says. She also asks if Goldman is signaling "structural change" with a compensation ratio that fell 200 basis points in the past year, "or is this just a one quarter blip that could reverse in the back half of the year?"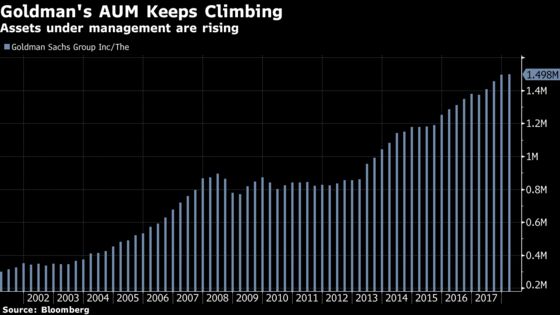 Here's a sample of analyst commentary:
Evercore ISI, Glenn Schorr
"(Earnings don't matter)?? They Should Shouldn't They?" Evercore ISI analyst Schorr asks in a note. "We're used to the old sell the news as plenty of people expected a good quarter from Goldman, but ~$6 is a pretty good quarter for this environment and actually the best" first half Goldman has posted in nine years.
Even so, Schorr flags several issues, including: non-compensation expense rising about 15 percent year-over-year (excluding litigation and accounting) due to strategic investments; a lower compensation ratio that's "a good thing for operating leverage, but did add ~40 cents in the quarter"; flat equities year-over-year versus a peer average of up 20 percent, due to higher revenues in cash, partly offset by lower derivatives; and, an 11 percent increase in headcount.
The results were "likely viewed as uninspiring," as they benefited from "volatile revenue sources and expense cuts," UBS analyst Hawken writes in a note. He also flags larger-than-expected incentive fees, and a lower-than-expected tax rate.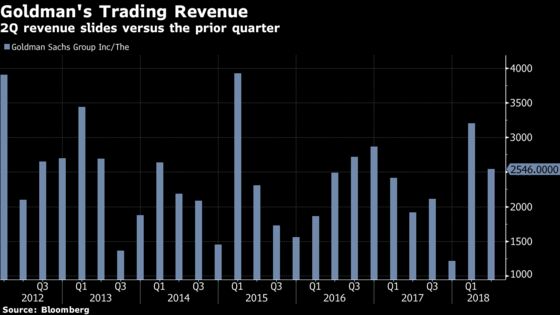 A first look shows "a lot of moving parts, but a strong quarter," with upside versus JMP's model driven by stronger revenues, Ryan writes in a note. The compensation ratio and tax rate were below Ryan's estimate, though the company reported higher-than-expected non-compensation expenses. The market may view the lower comp ratio as "more of a pull-forward of second half earnings."
Atlantic Equities, John Heagerty
Heagerty writes in a note that Goldman's "franchise strength shows through," with strong revenue in almost all divisions, with particular upside from investment banking, investment and lending, and investment management.
Trading results were in line with recent guidance, he says, with strength in commodities, interest rates and credit products. Equity trading revenues were flat year-over-year, with derivatives lower, "which is surprising given commentary from peers."
Goldman's pre-market share decline may have been "the markets treating good news as bad news," Opimas CEO Octavio Marenzi tells Bloomberg via email. "Yes, equities trading was definitely a disappointment, but this was more than compensated for by strength in other lines of business."
Earlier, Marenzi had written that Goldman's "earnings handily beat analyst predictions, both in terms of revenues and earnings. The bank showed strength across most of its franchises, but two stand out in particular. The firm's equity underwriting arm did outstandingly well, but the biggest surprise was the strength in Goldman Sachs' Fixed Income, Currency and Commodities (FICC) unit, which saw revenues increase by 45%, leaving other banks behind in the dust."
"Goldman beat on revenues, expenses, and EPS, and guided for a better outlook – record investment banking backlog, ahead on its $5b revenue plan, and a lower tax rate than previously indicated (20% vs. 23%). Yet, the stock is down, which, to us, reflects strategic concerns as the CEO of 12 years is leaving in 75 days. The main answer to the strategy question is that Goldman seeks to derive more stable, recurring fee based revenues. We still think that the stock moves higher but that the firm's transparency would have been helped by having the new CEO on today's call instead of waiting for some future appearance at a conference."