Goldman Stock Traders Buck Wall Street Trend on Revenue Jump
(Bloomberg) -- Goldman Sachs Group Inc.'s trading division offered investors something its rivals couldn't: a bright spot.
The firm's stock traders delivered a surprise revenue increase, driving Goldman's securities unit to a smaller decline than analysts had predicted for the second quarter. Citigroup Inc. and JPMorgan Chase & Co., which announced results earlier, reported bigger-than-anticipated drops from their trading desks.
Wall Street executives had warned that a slump in client activity amid trade disputes and other geopolitical risks would erode revenue from trading during the quarter. Goldman executives said their equities unit countered that by grabbing some share from weaker rivals and finally seeing dividends from years of upgrading its electronic trading systems.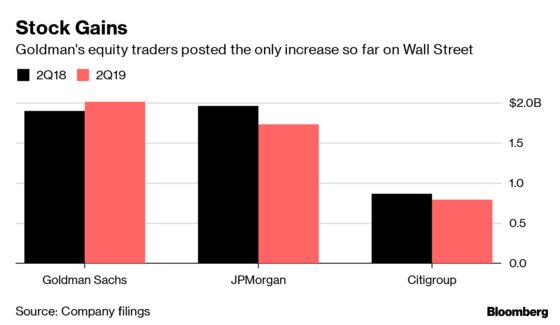 "The performance really was across the franchise, it was throughout derivatives and cash," Chief Executive Officer David Solomon said on a call with analysts. "Given the market dynamics broadly, there is some sense of consolidating share and I think we've seen the benefit of that."
Deutsche Bank AG was losing some client assets even before it announced this month that it's exiting the equities-trading business. Investors will be looking to see if Morgan Stanley, which has held the mantle of the top equity-trading franchise on Wall Street, also gained. The firm reports earnings on Thursday and analysts have been forecasting an 8% drop.
Shares of Goldman Sachs climbed 1.2% at 11:48 a.m in New York, the fourth-best performance in the 68-company S&P 500 Financials Index. The stock is up 28% this year, putting it on track for its best annual gain in more than five years.
Second-quarter trading revenue was $3.48 billion, topping the $3.37 billion average estimate by analysts in a Bloomberg survey. The equities jump masked some of the weakness in fixed-income trading, which was driven by lower revenues in rates, currencies and credit. The commodities unit, which has undergone a number of personnel changes, helped offset some of the weakness in other parts of the fixed-income business.
Fees from helping companies borrow slumped 20% to $605 million, reflecting less business in the investment-grade and leveraged-finance markets. Its equity-underwriting group brought in $482 million, aided by Goldman's role in public stock offerings for Silicon Valley heavyweights, including ride-hailing giant Uber Technologies Inc. and Slack Technologies Inc., a provider of workplace chat software.
Goldman, which consolidates its firmwide investing and lending activities into one reporting line, posted $2.53 billion in that division, higher than the $1.98 billion estimate of seven analysts compiled by Bloomberg. That was largely due to gains of $500 million from investments in companies that went public during the quarter, including Uber and Tradeweb Markets Inc.
Goldman's recent foray into consumer banking also has prompted it to heed falling rates. In the second quarter, the firm cut the amount of interest it pays depositors with online savings accounts. Banks typically try to maximize the margin between what they pay for deposits and what they earn from making loans.
Goldman also made its biggest acquisition in about two decades with the purchase of a wealth manager to help with its expansion beyond catering to just ultra-wealthy individuals. Its investment-management division is the only place where the firm posted a much bigger drop than expectations, despite an increase in assets-under supervision.
Last month, Goldman Sachs passed the Federal Reserve's annual stress test. The exam was easier on capital-markets businesses than in previous years, allowing the firm to increase dividends and share repurchases. It's a reversal from 2018, when the regulator curtailed the bank's ability to boost payouts.
Equities revenue at $2.01 billion was the second-highest for a quarter in four years
All elements of investment banking declined in the second quarter from a year earlier, led by a 20% drop in debt underwriting
Earnings per share of $5.81 topped the average estimate of $4.93
Provision for credit losses dropped 9% to $214 million