Goldman Sachs Dealmakers' Surging Fees Help Offset Trading Misery
(Bloomberg) -- Goldman Sachs Group Inc., owner of one of Wall Street's top deal-making franchises, leaned on that business last quarter to overcome an industrywide downturn in fixed-income trading. The shares jumped the most in almost seven years.
Merger-advisory fees jumped 56 percent to the highest in more than a decade, lifting the investment-banking division above analysts' estimates even as companies tempered their stock and bond issuance. The gains helped offset a dismal quarter for the bank's fixed-income traders, who turned in the worst performance since before the financial crisis.
Chief Executive Officer David Solomon, who took over in October after having led the banking division, will try to build on the deal-making group's success as he attempts to reshape other business lines and carries out an exhaustive review of the firm's operations.
Shares of Goldman Sachs, up 7.7 percent this year through Tuesday, surged 6.6 percent to $191.70 at 10:11 a.m. in New York. The intraday gain was the biggest since March 2012.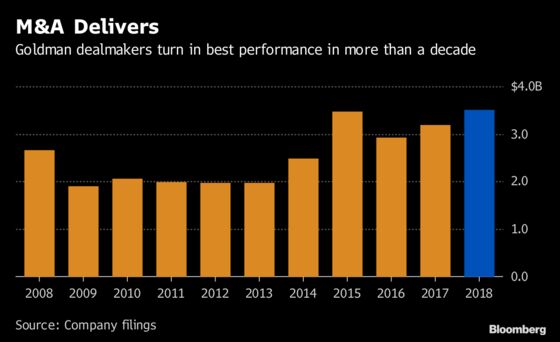 The stock dropped 34 percent last year as investors gauged possible fallout from a multinational corruption probe that ensnared Goldman Sachs and raised the potential of massive fines. The bank has been under scrutiny for its role in helping raise funds for the Malaysian investment fund 1MDB, money that was then allegedly plundered.
"We apologize to the Malaysian people," Solomon said on a conference call with analysts after earnings were released. The country was "defrauded by many individuals," he said.
The CEO placed much of the blame on former senior banker Tim Leissner, who pleaded guilty last year to charges including conspiring to launder money.
Fourth-quarter investment-banking revenue fell 5 percent to $2.04 billion, beating the average estimate of $1.93 billion, the New York-based company said Wednesday in a statement. Goldman earned $1.2 billion from its advisory unit. Wall Street analysts were split over how that business would perform, with estimates ranging from about $700 million to $1.3 billion.
Merger strength helped mask the slowdown in fundraising activity for companies as choppy markets weighed on capital markets. Revenue from Goldman's underwriting business plunged 38 percent to $843 million, a decline the firm blamed on lower leveraged-finance activity and a drop in secondary equity offerings.
Goldman's traders, who bring in the biggest chunk of revenue every year, turned in $2.43 billion for the fourth quarter, compared with the average estimate of $2.5 billion.
Fixed-income traders felt the biggest pinch as revenue from that once-dominant group fell to $822 million, a drop of 18 percent that was steeper than analysts were predicting.
Goldman also highlighted a tax gain of $467 million that helped boost net income for the fourth quarter. The firm estimated a one-time charge of $4.4 billion related to the Trump administration's tax overhaul at the end of last year, meaning the final impact was better than the initial estimate.
Other key results:
Net income swung to a profit of $2.54 billion, or $6.04 a share, from a loss of $1.93 billion, or $5.51, a year earlier, when the firm took the tax charge.
Revenue fell 1 percent to $8.08 billion, while the firm cut its compensation costs by 11 percent.