Goldman Sachs CFO Scherr Exits in Latest Executive Reshuffle
(Bloomberg) -- Goldman Sachs Group Inc. Chief Financial Officer Stephen Scherr will depart the bank and end nearly three decades at the firm, paving the way for the latest round of executive reshuffling in the Wall Street giant's highest rungs. 
Scherr, 57, who rose to CFO with the leadership change that brought in David Solomon as head of the firm, is vacating the seat after just over three years in the role. Before that, Scherr was in charge of one of Goldman's biggest efforts of recent years, expanding into mainstream banking -- a departure from the bank's core strength. Denis Coleman III, co-head of the global financing group, will become CFO from Jan. 1.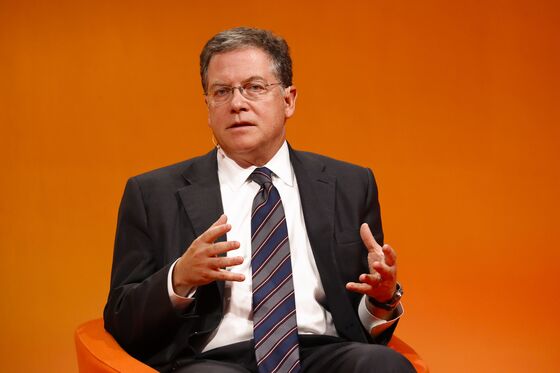 The CFO seat had historically been seen as integral to the power structure at Goldman Sachs. David Viniar reigned in that role for over a decade, and his successor, Harvey Schwartz, was promoted into a more senior post after that.
"In my mind he's one of the greatest Goldman partners of all time," Ram Sundaram, a former senior partner, said of Scherr. "Never met someone who had that level of EQ and IQ. Everybody likes Stephen."
The victors in the latest reshuffle go beyond incoming CFO Coleman. The bank is positioning its treasurer, Beth Hammack, for bigger roles. Hammack, who already was in its top decision-making group, has been given charge of its global financing group, a key client-focused seat that has been integral to Goldman's success. Hammack had previously been in the trading division, and the new role is seen as a way to give her more experience in an attempt to set her up for more senior roles within the firm.
Scherr indicated in a post soon after the announcement that while he may be leaving Goldman, he doesn't plan to retire anytime soon. "I'm energized for my next chapter -- whatever that may be," he wrote. "For now, I'm feeling grateful for an incredible journey at an incredible place." His journey at Goldman initially began with a rejection letter from the firm when he first applied to join its ranks in the 1990s.
"Stephen is a real difference maker and I have no doubt he will continue to do just that wherever he goes," said Hank Paulson, the former CEO of Goldman. "It was my privilege to work with him and count him as a friend."
Paulson's successor, Lloyd Blankfein, also holds Scherr in high regard. "Stephen always handled tough jobs in the best way," Blankfein said.
In elevating Coleman, Goldman has turned to a veteran investment-banking executive, who will now also find a seat on its management committee. Coleman will immediately start serving as deputy CFO to help with the transition, according to a statement from the bank. 
His father, Denis Coleman Jr., was a senior executive at Bear Stearns in the 1980s. On vacation in Spain, he didn't hear about the promotion until his phone started buzzing with texts from well-wishers.

"He was as quiet as a church mouse," he said about his son, describing him as discreet, self-disciplined and a man without excess.
Scherr will remain CFO until the end of the year and retire from the bank at the end of January. Phil Berlinski, a senior trading executive, will take on the role of treasurer and be added to the management committee, the bank's top decision-making group. Sheara Fredman, the chief accounting officer, will also be added to the same group.