Goldman's Word of Caution for Rates Traders Ahead of Powell's Speech
(Bloomberg) -- As traders look to Jerome Powell's speech Wednesday to help resolve the question of whether the Federal Reserve might pause its cycle of interest-rate hikes, there's a risk that they are misinterpreting markets, according to Goldman Sachs Group Inc.
"A stronger dollar, weak gold prices, and volatile risky assets look inconsistent with the idea that investors now have more dovish perceptions of the Fed," Goldman Sachs Group Inc. Strategist Zach Pandl wrote in a note published ahead of Powell's speech in New York. "In recent weeks, even as nominal front-end rates have repriced, our multi-asset model has interpreted market signals as consistent with a more hawkish monetary policy outlook."
Money-market pricing has shifted this month to reflect reduced expectations for where the fed funds rate will be next year. That move followed comments from senior Fed officials acknowledging risks to global growth, which some observers interpreted as laying the groundwork for policy makers to retreat from their tightening projections. Those estimates, from September, center on a rate hike next month and three more in 2019.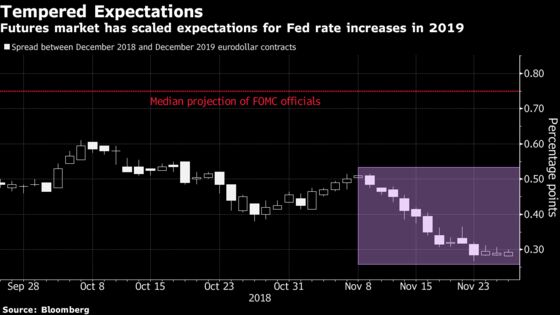 But according to Pandl, the shift in pricing actually reflects weaker growth and inflation expectations, rather than perceptions that the Federal Open Market Committee has turned more dovish. He warns that traders who are betting the market has misread the Fed may have themselves misread the market, and their trades may not pay off.
It might take more than just Fed communication to bring front-end U.S. rates back up, and bets on such an increase will likely require a rebound in global growth, oil prices or both, according to Pandl.
"Indeed, there could be further downside in front-end rates if incoming data were to disappoint, and Fed officials shifted in a more cautious direction."
Pandl also pointed to other trading implications, noting that the dollar's strength "looks unsustainable with U.S. growth poised to slow." Goldman favors short U.S. dollar positions versus the Canadian dollar and the Japanese yen, he said.
"According to our modeling, the main factor driving the Dollar move has been increasingly hawkish monetary policy views -- or, more precisely, a perception that the Fed will not respond to a deteriorating growth outlook." he wrote. "We doubt this idea will persist."
Pandl warned too that risk-related assets, which have taken a beating of late, may be near their lows, and that broader market strains are likely at some point to force the Fed to pause "at some point."
"Moderate U.S. inflation means the FOMC will not be hiking with blinders on."