Goldman's Sedgwick Sees M&A Boosting Europe's Company Bond Sales
(Bloomberg) -- Mergers and acquisitions may raise Europe's corporate bond market from its relative slumber as companies that have weathered the pandemic spy opportunities to snap up competitors, according to Goldman Sachs Group Inc.s' head of Europe, Middle East and Africa investment-grade capital markets.
"The current M&A funding pipeline on the European side is large -- at around 80 billion euros ($95 billion) for investment grade corporates," said Oliver Sedgwick, a managing director for the bank, based in London. "At the moment the pipeline is relatively granular and we expect it to be readily digested by the market."
Non-financial firms rushed to load up on debt during 2020 as they sought funding to tide them through government-enforced lockdowns put in place to rein in the spread of Covid-19. That put activity such as corporate buyouts on the back burner, as companies focused on building up their cash reserves and capital buffers.
As a result, the number of firms issuing bonds backing M&A activity tumbled. French train-maker Alstom SA, sold bonds in January to fund its purchase of Bombardier Inc.'s rail business, in one of the few examples this year of a European investment-grade issuer raising debt for an acquisition.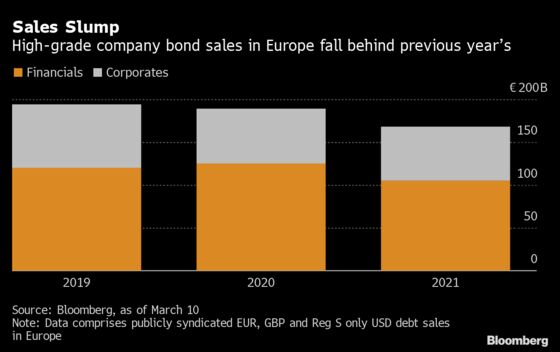 Market-wide sales so far this year are 11% ahead of their level at the same period of 2020, and last week blasted through the 400 billion-euro issuance barrier in the fastest time ever.
Even so, high-grade issuance from companies and banks only accounts for little more than a third of the overall tally, compared with almost half for the same period of last year, according to data compiled by Bloomberg. That's because sovereigns including Italy and Spain are forging ahead with their borrowing plans to fund the recovery of their economies from the virus.
"Investment grade corporates are very cash rich," Sedgwick said. "The big-flow funders have dropped their cadence of funding because they are ultimately sitting on significant amounts of liquidity, having raised these funds as their insurance policy to the Covid-19 environment," he said.
Still, a pick-up in M&A activity may "partially offset" the decline in supply, Sedgwick said. Companies turning to the bond market to finance buyouts may also consider issuing hybrid bonds, a riskier type of subordinated debt, he said. That's because they offer an attractive cost of capital and can help issuers maintain the right leverage metrics for their balance sheets.
Read More: Spain Prepares First Green Bond Sale This Year, Official Says
Environmental, social and governance debt sales will also play a significant part in corporate issuance plans, according to Sedgwick. Surging ethical debt sales have helped to fuel the best-ever start to a year in Europe's market for new bonds, making up for about a fifth of the 441 billion euros of debt sold so far this year.
ESG market issuers "are able to capture a lower funding cost or spread versus conventional bonds," Sedgwick said. "As a product for issuers it therefore ticks all the boxes."