The Suspense Builds for Goldman and Morgan Stanley Results
(Bloomberg) -- Goldman Sachs Group Inc. and Morgan Stanley are typically the finale when giant U.S. banks report quarterly earnings, and by then, everyone on Wall Street can guess how their traders and bankers fared.
Unusually divergent results from major rivals in recent days make it harder for investors to anticipate what the figures from Goldman Sachs and Morgan Stanley will look like early Tuesday morning. Might they follow JPMorgan Chase & Co. in missing analysts' estimates -- or Citigroup Inc., which saw its shares jump on higher-than-expected revenue from fixed-income products?
Some analysts studying the numbers say they see bright spots -- such as commodities trading and equities issuance -- that could bode well for Goldman Sachs and Morgan Stanley. Those operations may have helped them counter a slump in investment banking that has bedeviled the industry.
Morgan Stanley and Goldman "have the best traction during this earnings season," Marty Mosby, an analyst at Vining Sparks, said in a telephone interview. "It's set up for both of them to report well."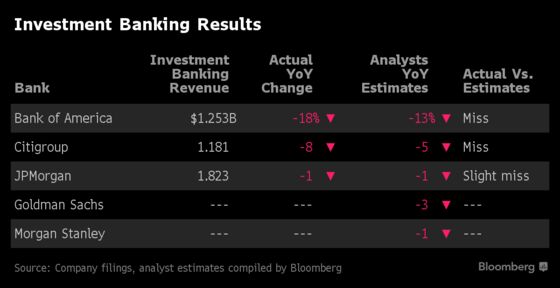 So far, trading results have been mixed, particularly in fixed-income products. Citigroup's traders in that business beat analysts' estimates while JPMorgan and Bank of America missed.
On a conference call with analysts, JPMorgan Chief Financial Officer Marianne Lake pointed to weakness in revenue from trading credit and securitized products. But there were gains in the firm's commodities business, which saw activity return to more-normal levels compared with the same period a year ago.
JPMorgan's earnings from fixed-income trading "could imply modestly better results for Goldman Sachs, given commodities were called out as a strength," Brian Kleinhanzl, an analyst at Keefe Bruyette & Woods Inc., wrote in a note to clients.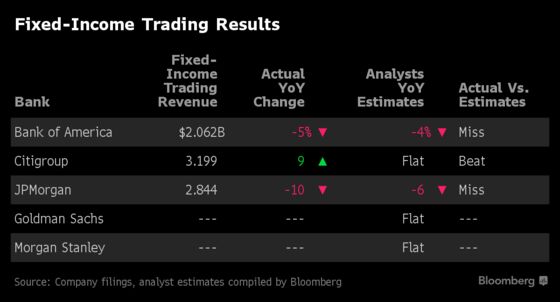 Bank of America declined Monday after it also reported a slowdown in commercial-loan growth as corporations turned to the capital markets instead of traditional bank loans.
That plays to the strengths of both Morgan Stanley and Goldman Sachs. Compared with rivals, both derive a bigger share of their revenue from debt and equity underwriting.
Equities were a positive for the three big banks that already reported. Lake said JPMorgan benefited from stronger performance in cash equities and prime services -- products in which Morgan Stanley remains a leader, according to league tables from the analytics firm Coalition Development.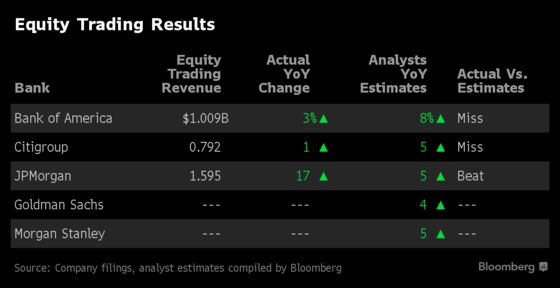 Bank of America and JPMorgan also pointed to strength in equity issuance, which helped offset declines in debt underwriting revenue. Initial public offerings have risen 13 percent this year compared with the same period in 2017 -- -- and Goldman was the biggest underwriter with 6.7 percent of the market -- according to data compiled by Bloomberg.
Analysts' estimates for Goldman Sachs and Morgan Stanley start to go stale when rival banks post results and shift Wall Street's expectations.
Before earnings season began, analysts projected that Goldman Sachs probably boosted revenue from debt and equity issuance 1 percent, making it the only bank expected to eke out a gain in those businesses.
And analysts said Morgan Stanley's revenue from trading and investment banking may have climbed 3 percent and 1 percent, respectively, the biggest increase expected among the five largest banks on Wall Street.
If Tuesday's numbers don't include any big surprises, investors will focus on forecasts.
"A big thing for Goldman and Morgan will be the outlook for M&A," Jeff Harte, an analyst at Sandler O'Neill & Partners LP, said in a phone interview.