Goldman Model Hints at More Pain for Some EM Currencies
(Bloomberg) -- Goldman Sachs Group Inc. models are signaling that some developing-nation currencies have further to fall, even after a slide unprecedented since the financial crisis.
While this year's sell-off has pushed emerging-market exchange rates into undervalued territory by at least one measure, they are not yet as cheap as in early 2016, analysts at the investment bank including Mark Ozerov and Kamakshya Trivedi note. Back then, the developing world was being battered by a slump in global oil prices.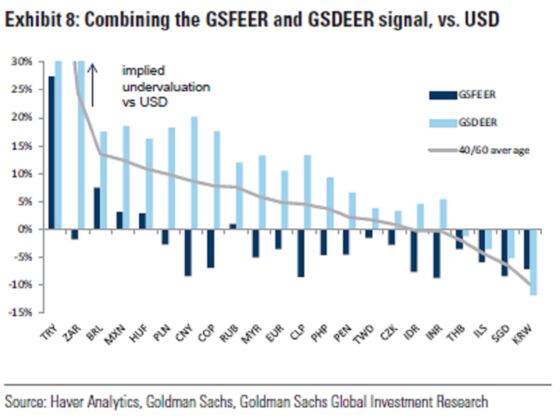 Emerging-market currencies are extending losses this month as trade tensions heat up between the world's two biggest economies and strong economic data from the U.S. increases chances of more interest-rate hikes. Seven emerging economies, including Argentina, South Africa and Turkey, are now at risk of an exchange-rate crisis, according to an early-warning model followed by Nomura Holdings Inc.
The slump has made the Brazilian real, Mexican peso, South African rand and Russian ruble look cheap on a trade-weighted basis, according to Goldman analysts. Meanwhile, the Turkish lira has overshot the depreciation required by the country's economic imbalances.
But not all EM currency valuations are flashing green.
The Colombian peso, Indian rupee and Indonesian rupiah turned out to be modestly overvalued according to a GSFEER model that takes into account the external and internal imbalances of their economies.
The analysts also weighed currencies on a GSDEER scale, which takes productivity and terms of trade differentials into account. By that measure, most emerging-market high-yielders are undervalued.
"Of course, valuations are best seen as a medium- to long-term signal for asset market performance, and are rarely a catalyst in and of themselves to spark stronger performance," the analysts wrote. "Nevertheless a significant cheapening could provide an anchor point for investors who can take the long-term view and a buffer to weather any volatility."