Goldman, JPMorgan Demand CLO Warehouse Managers Put Up Cash
(Bloomberg) -- Goldman Sachs Group Inc. and JPMorgan Chase & Co. are demanding that managers of collateralized loan obligations put up more cash to finance the deals after prices on the underlying corporate debt went into a freefall.
The banks provide financing facilities called warehouses, which CLO managers use to buy risky debt known as leveraged loans before they package and sell them as bonds. JPMorgan and Goldman, which are among the biggest providers of warehouse financing on CLOs that have market-value triggers, demanded the extra collateral after average loan prices tumbled last week, according to people familiar with the matter, who asked not to be identified discussing a private matter.
Wall Street banks have roughly $10 billion to $12 billion of exposure to the CLO warehouses, according to analysts at Wells Fargo & Co. The managers have come under pressure as loan prices have tumbled to about 76 cents on the dollar, eroding first-loss protections. With mark-to-market warehouses, the onus is on investors in the riskiest part of the CLO, the equity, to decide whether to put in more collateral or cash to raise the assets' weighted average value above a required threshold. Some equity investors may choose to cut and run. Often, the CLO manager is also the equity investor.
Representatives for Goldman and JPMorgan declined to comment. Other banks have also sent around such notices, another person familiar said.
Only a handful of managers still have mark-to-market warehouses, meaning that while they may come under pressure from the drop in most leveraged loan prices to distressed levels, mass liquidations are unlikely.
Most CLO warehouses have no covenant triggers based on the secondary trading levels of their portfolio and low loan prices can simply freeze buying of new loans.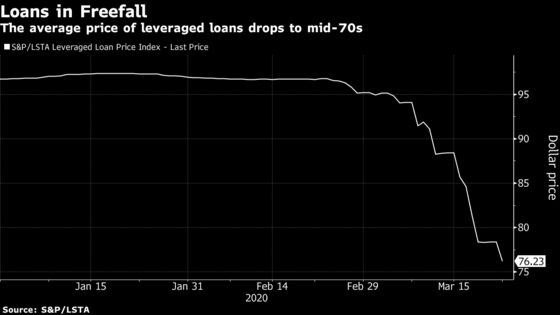 Warehouse financing is a critical part of the CLO-formation process and there are at least 60 of the facilities.