Goldman Is on the Brink of Erasing the Trump Bump
(Bloomberg) -- Goldman Sachs Group Inc. soared in the months after U.S. President Donald Trump's election in 2016, enriching shareholders and its staff. That so-called Trump Bump is now almost gone.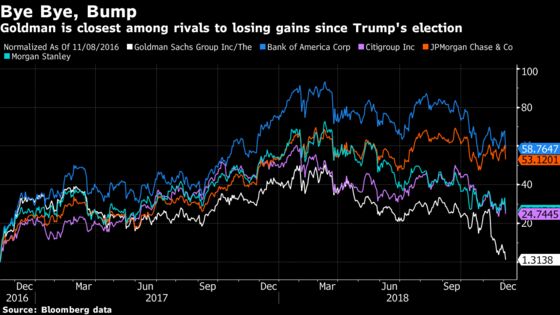 The stock has tumbled 33 percent from a record high in mid-March, eroded by a broader market slump and troubles specific to the firm. About half of the decline occurred in the past month, as investors worried about the costs and reputational damage the investment bank may incur over its involvement in Malaysia's 1MDB corruption scandal.
After Trump's election, investors bet Goldman Sachs would thrive as its alumni joined an administration vowing to ease regulation and slash corporate taxes. That ended as Trump embarked on a trade war with countries including China. Now, if its stock slips just 1.3 percent Goldman will be the only major U.S. investment bank to see its entire bump disappear.