Goldman Sees 'Numerous' Ways to Top $5 Billion Growth Target
(Bloomberg) -- Goldman Sachs Group Inc. has achieved half of its revenue-growth goal, but it isn't stopping there.
On his first day as chief financial officer, Stephen Scherr told investors Monday the firm is ahead of schedule on its objective of $5 billion in new revenue by 2020. Goldman Sachs has already increased revenue firmwide by $2.5 billion through a series of initiatives it laid out last year.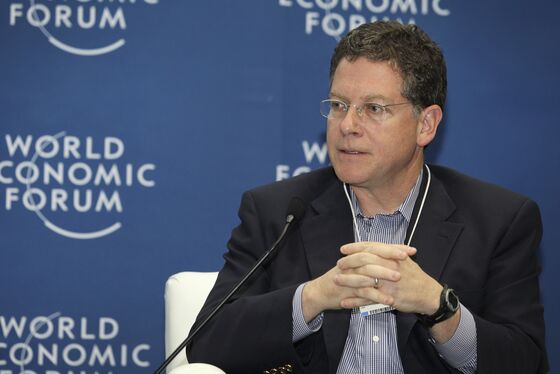 And the bank could go further. Led by new Chief Executive Officer David Solomon, the company is in the midst of "comprehensive front-to-back reviews of our businesses" as it seeks more avenues for growth, Scherr said. He promised a strategy update by next spring.
"While we are meeting our objectives, these initiatives are not the limit of our ambition," Scherr said. "Numerous business opportunities exist beyond the $5 billion."
In September 2017, Goldman laid out a series of initiatives to boost revenue by $5 billion within three years, in part by expanding operations previously seen as a sideline, such as offering loans to consumers through an online bank. The revenue increases continue the trend of Goldman looking more like a traditional bank, expanding its lending to mid-sized companies and managing cash for corporations.
The biggest chunk of progress this year has come from institutional lending and financing, generating $800 million of new revenue, Scherr said in his presentation at the Bank of America Merrill Lynch Future of Financials 2018 Conference in New York. This year, Goldman Sachs has generated $400 million in new revenue from equities initiatives and a total of $600 million in additional revenue from investment management.
Scherr said that the firm's progress in fixed income, currency and commodity trading hasn't resulted in more revenue because of a lower level of activity by existing clients.
"When client activity rebounds, we expect to capture it and see it translate into revenue, but we will not be complacent," he said. "We must optimize capital across the FICC businesses."
Scherr also said that Goldman Sachs leadership is working to improve the firm's efficiency ratio, which stands at 64.2 percent this year, down from an average of 66.7 percent from 2012 through last year. Investors had historically focused on the firm's ratio of compensation expenses to revenue.
"We are viewing our compensation and non-compensation expenses more comprehensively, and you will hear us talk about efficiency ratios," he said.