How Citigroup, Morgan Stanley Are Returning to Offices in Asia
(Bloomberg) -- Thousands of bankers have returned to their offices across some of Asia's biggest financial hubs, stepping gingerly into a new normal of face masks, desk shields and closed canteens.
In Hong Kong, Citigroup Inc. is planning to install plastic partitions in some work stations as it ramps up office staff. At Bank of China's Beijing hub, the staff kitchen is closed, forcing employees to take turns getting boxed lunches for their colleagues. Morgan Stanley has recalibrated the elevator in its Hong Kong skyscraper for faster rides and fewer passengers.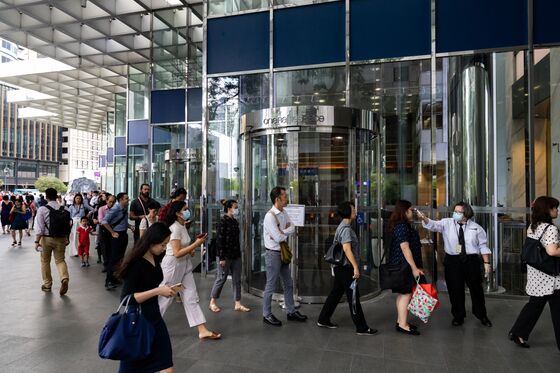 The office changes are a potential harbinger of things to come in London and New York, where many firms are waiting for infection rates to fall further before opening their office towers to non-essential staff. Some bankers in Asia have expressed relief at returning to the office after weeks at home, even if back to work hardly means back to normal.
"Coming back into the office yesterday, there were a lot more personal interactions -- within respectful distance," said Anthony Davies, who heads the Hong Kong branch for Barclays Bank Plc, which increased its office staffing to 60% this week. "It reignites a positive environment for us to work in."
China, as the original epicenter of the virus and the first to shut down, has boosted office staffing for several weeks, with few signs that the safety precautions will be removed anytime soon. Bank of Communications Co., which employs about 87,000 people, ordered most staff back to the office in March, while other banks in Beijing have had most employees back since last month.
In Hong Kong, some of the world's biggest banks are slowly welcoming employees back after the city eased many restrictions. That's in contrast with Singapore, the Southeast Asian financial hub that continues to report hundreds of cases a day, keeping most bankers at home.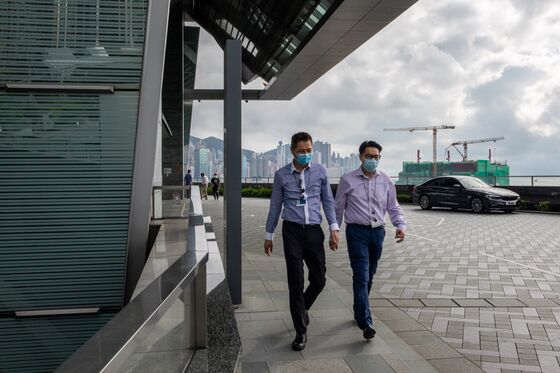 HSBC Holdings Plc said 30% of its Hong Kong staff can return as of Monday, according to a memo seen by Bloomberg News and confirmed by a bank spokeswoman. Goldman Sachs Group Inc. now has a third of its employees, or almost 600 people, in the office, a spokesman said.
By contrast, Morgan Stanley plans to allow New York employees to start returning to work next month, while JPMorgan Chase & Co. said it doesn't yet have a timeline for returning in the U.S. finance hub.
"Banks in Hong Kong and China are very well prepared for their staff to return to work, given that Covid-19 seems to be largely under control relative to the West," said Benjamin Quinlan, chief executive officer of Quinlan & Associates, a strategy consultancy in Hong Kong.
As more bankers flood back to their desks in Asia, here are some of the changes they're noticing:
Get used to these. Most office buildings are taking temperature checks as employees arrive. Staff at Bank of Communications in Shanghai wear masks all day, and pass through an infrared temperature screen to enter the office. In China, staff are generally required to show a health code on their phones, which tracks where they've been, says a banker in Beijing at CSC Financial Co. For many, travel to Hubei, where the virus started in the city of Wuhan, is off limits, the banker said.
Say good-bye to those packed gatherings, with all the seats taken and many people standing. Barclays is limiting meetings to about half the room's seating capacity. At a JPMorgan meeting room in Hong Kong, three of five seats were labeled "unavailable." Video conferences remain the norm at most banks, even for those in the office. Face-to-face meetings with outside guests should be minimized, says Barclays, which plans to increase its Hong Kong staffing to 80% by the end of May, depending on the situation.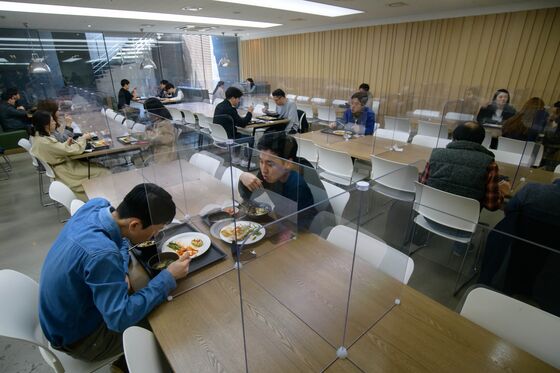 Space is key. Staff are separated to ensure social-distancing. Workers at Citigroup can't move around to different desks and are told to avoid venturing to other floors. In areas like trading desks where staff are bunched together, plastic partitions will likely be set up, according to a Citigroup spokesman.
Hand sanitizer, wipes and face masks are ubiquitous. Citigroup is considering adding a robotic floor cleaner at its Kwun Tong office in Hong Kong as more staff return. In Beijing and Shanghai, office towers are still not using centralized air conditioning, concerned about air quality. It was 30 degrees Celsius (86 degrees Fahrenheit) in Shanghai Tuesday.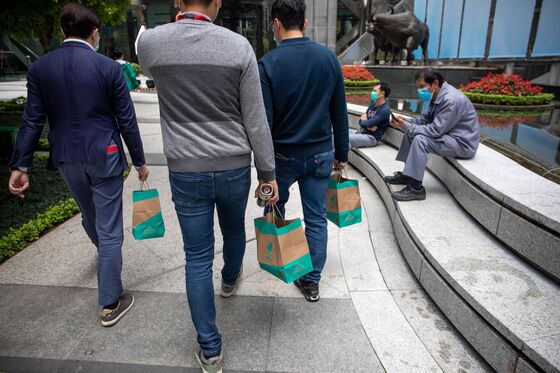 Long lunches with colleagues, if they ever happened, are discouraged now. Many kitchens are closed and staff are asked to eat alone or with no more than a few people. No outside catering for visitors, several banks say.
At HSBC, which employs 22,000 in Hong Kong excluding a local subsidiary, staff are being asked to vary their start and lunch times to reduce the number of people using building entrances while temperature screening is in place, according to a bank memo. Staff are encouraged to avoid moving to different bank locations.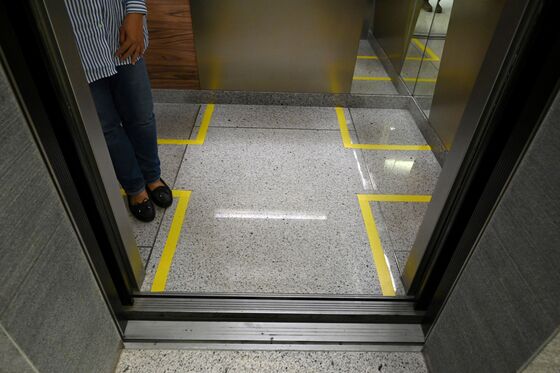 Mind the numbers. As in many offices across the region, Bank of China in Beijing limits the number of people in elevators to five -- about half the capacity -- to ensure safe distancing.
Morgan Stanley has worked with its landlord at the International Commerce Centre in Hong Kong to adjust the algorithm of the six elevators used exclusively by the New York-based bank. That ensures fewer people in each lift and shorter ride times as it reduces the number of stops.