Goldman Crunches Data to Pick the Best Trades for G-20 Rally
(Bloomberg) -- It's no secret that global trade tensions have spurred market volatility, which means this week's G-20 meeting is likely to offer both peril and opportunity for investors.
The gathering in Buenos Aires, which will include a much-watched dinner between U.S. President Donald Trump and China's Xi Jinping amid heightened trade tensions, offers one of the year's last remaining potential catalysts for a big move in markets. So, Goldman Sachs Group Inc. looked at previous trade-related stock moves to figure out what might be winners this time around.
"We see an opportunity in the options market for investors to express a view that trade news could be more constructive than feared by buying calls on the stocks that have lagged," Goldman strategists led by Katherine Fogertey and John Marshall wrote in a note Wednesday. "If this scenario does materialize, we see the potential for shares that have been most exposed to trade news to trade higher, benefiting buyers of calls," they said, offering the caveat that they "are not making a call on the outcome of trade talks and the G-20."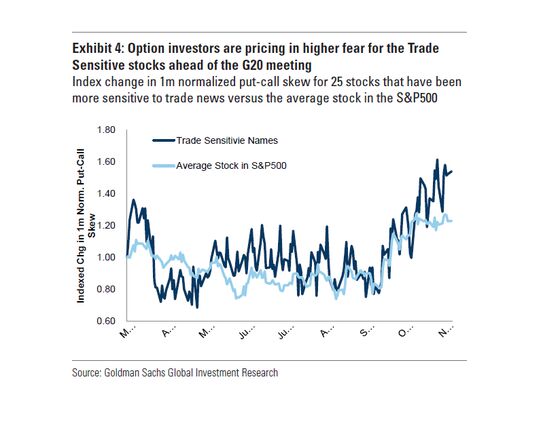 The Goldman strategists identified about 20 stocks that have shown unusually high volatility around seven periods of trade news since March, and have sufficiently liquid options. A call that's 5 percent out of the money is cheapest on eBay Inc., Stanley Black & Decker Inc. and Fluor Corp., they said, with companies like Applied Materials Inc., Las Vegas Sands Corp. and Huntsman Corp. also making the list.
On average, stocks in that group have lagged the S&P 500 Index by nearly 40 percent since March 21, but one 5 percent out-of-the-money call option costs just 3 percent, the strategists said. They noted that call buyers risk losing the premium paid if shares close below the strike price at expiration.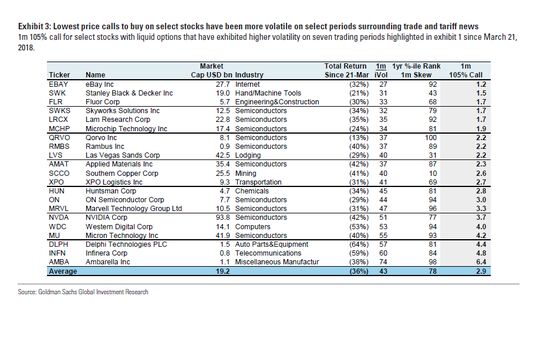 Sector exchange-traded funds might also be good places to try trading the G-20 meeting, as some industry groups have shown more volatility than others around trade news, Goldman said, recommending the purchase of calls on industrials (ticker XLI), materials (XLB), semiconductors (SMH) and technology (XLK) funds.
"Calls on certain country ETFs (i.e., China and Emerging Markets) as well as S&P 500 could perform well if trade talks are constructive in the coming days," the strategists added.
Wells Fargo & Co. and Macro Risk Advisors agreed with the theme, recommending similar bullish options trades.
Call spreads on the iShares China Large-Cap ETF (FXI) or iShares MSCI EAFE ETF (EFA) with Dec. 7 expiry would be good ways to bet on upside into the G-20, according to Wells Fargo derivatives strategist Pravit Chintawongvanich.
"EFA prices in almost no premium for the G-20," Chintawongvanich wrote in a note Wednesday. If there's a big move in assets like the SPDR S&P 500 ETF Trust (SPY) and iShares MSCI Emerging Markets ETF (EEM),"it's hard to see EFA not moving along with the rest of the world. While FXI/EEM will probably have the biggest reaction to the G-20, EFA could be the 'value' play."
Macro Risk Advisors suggested an FXI December call spread, with Chief Macro Strategist Mayank Seksaria citing the acceleration of accommodative Chinese policy measures as another reason to like that ETF.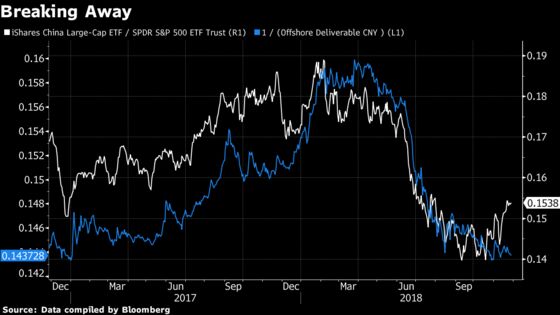 "U.S./China trade related risks have been a key driver of equity market underperformance since October," Seksaria wrote. "With SPX already down about 10 percent from year-to-date highs, we think that the 'no-deal' scenario is largely priced in and now see equity market risks skewed to the upside."