Goldman and Citi Clash With Bond Traders' Dimming View of Inflation
(Bloomberg) -- Bond traders see the specter of quicker inflation as all but dead, a view that clashes with strategists from Goldman Sachs Group Inc. and Citigroup Inc. who see more upside ahead.
Amid diving energy prices, the market for Treasury Inflation Protected Securities now signals a sub-2 percent annual inflation pace over at least the next 30 years. The plunge in breakeven rates -- a gauge of traders' inflation expectations -- comes even as annual growth in consumer prices is hovering just above 2 percent.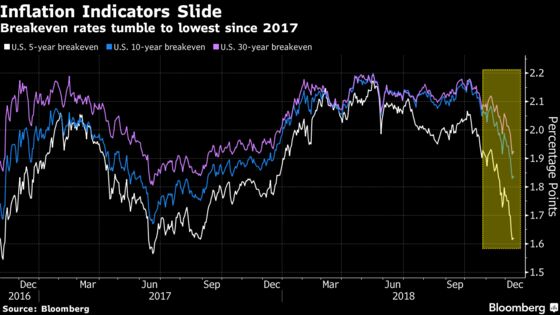 "Inflation breakevens continue to be under pressure, but the fundamental case for owning them appears to be intact," Goldman Sachs analysts including Praveen Korapaty wrote in a note Wednesday. "The only scenarios where they are unattractive to own are in a situation where growth is decelerating much more sharply than our economists expect and Fed policy is already restrictive."
The firm's economists expect the Federal Reserve to lift rates next week, but they also now see slightly less than a 50 percent probability of a subsequent hike in March.
Breakeven rates, based on the consumer price index, show traders are betting the Fed will begin to miss its 2 percent inflation target -- as expressed in terms of the deflator for personal consumption expenditures (which has historically trailed CPI by about 40 basis points on average.)
The Fed's own measure of long-term inflation expectations, the five-year, five-year forward breakeven rate, sank to 1.93 percentage points as of Dec. 7, from a peak this year of 2.2 percentage points in May.
The latest decline in advanced economies' inflation pricing has been driven by "markets' risk-off sentiment," Citigroup economists including Pernille Bomholdt Henneberg wrote in a note this week. "Hence, an upside surprise is not priced in."
The firm's U.S. economists say falling oil prices will weigh on headline inflation, but are unlikely to significantly pass through to the core reading. They also see the possibility that trade tensions will cause inflation to accelerate globally.