Goldman CEO Says 1MDB Guilty Plea Hasn't Been Discussed With DOJ
(Bloomberg) -- Goldman Sachs Group Inc. hasn't begun talks with the Department of Justice over how best to resolve its role in the 1MDB corruption scandal, including whether a guilty plea will be part of the negotiations, according to Chief Executive Officer David Solomon.
"We haven't even started discussions with the Justice Department on any of that," Solomon said Monday in a Bloomberg Television interview.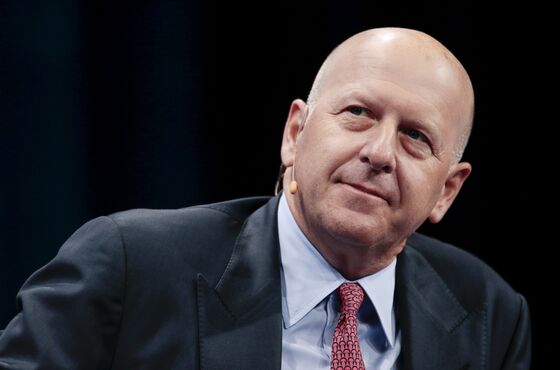 U.S. prosecutors recommended to senior Justice Department officials that Goldman Sachs be required to plead guilty to a crime to settle a probe of its dealings with Malaysia's 1MDB state investment fund, the Financial Times reported last week. A spokesman for the firm said at the time that Goldman doesn't think such a plea is warranted. The Department of Justice declined to comment last week.
"We are very focused on getting this resolved in the best way we can," Solomon said.
The New York-based investment bank has blamed a rogue employee for wrongdoing in relation to 1MDB, previously telling prosecutors it was deceived by a former partner, Tim Leissner. Still, authorities in Malaysia have also faulted the company, alleging it misled investors while raising more than $6 billion for 1MDB in 2012 and 2013.
In the wide-ranging interview, Solomon also said:
Client activity has improved and credit markets are "pretty constructive." There has been a move back into risk assets, after the last two quarters saw trading-revenue declines, he said.
The so-called shadow banking industry is gaining more capital, which requires monitoring because that industry is less heavily regulated. More transparency is needed, the CEO said.
Demand for alternative asset managers is increasing. "We see opportunities to expand what we are doing for clients in that business," he said.
Asked about the state of American capitalism and various proposals to make the distribution of wealth more equitable, Solomon said: "I don't think a wealth tax, per se, is a good idea." He said the nation's wealthiest can "do more" over time to help with the problem.