Goldman Bankers Deliver Surprise Gain for Solomon
(Bloomberg) -- Goldman Sachs Group Inc.'s dealmakers celebrated one of their own rising to the top of the firm by delivering an unexpected boost to his first month.
Wall Street's top advisory franchise delivered in a quarter when most of its competitors were beset by a slowdown in completed merger transactions and underwhelming debt-underwriting activity. Goldman Sachs's investment-banking group posted a 10 percent revenue gain last quarter, vaulting past analysts' estimates for a drop.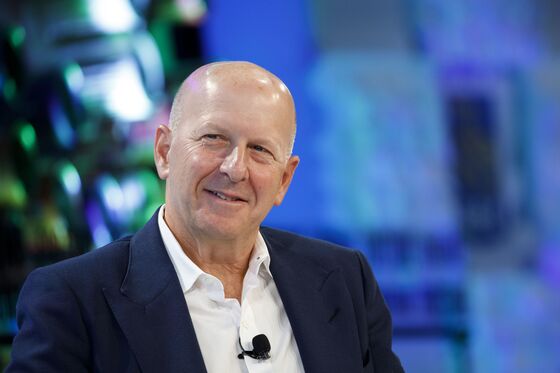 David Solomon, who took over as chief executive officer on Oct. 1, spent a decade atop the investment-banking division, helping cement its expansion. A number of senior executives he worked with at the time now form a key part of the team he's putting together to shepherd the entire firm, including President John Waldron and incoming Chief Financial Officer Stephen Scherr.
After putting his management team in place, Solomon will have to turn his attention to appeasing shareholders, with the stock down almost 16 percent this year through Monday. That slump compares with a decline of just 5.8 percent for the S&P 500 Financials Index.
Shares of Goldman Sachs rose 1.4 percent in early trading in New York.
Investment-banking revenue of $1.98 billion surpassed the average estimate of $1.75 billion, but, in a note of caution, the bank said in a statement Tuesday that its backlog was lower compared with the end of the second quarter. Morgan Stanley, which also released third-quarter results on Tuesday, said its pipeline was strong.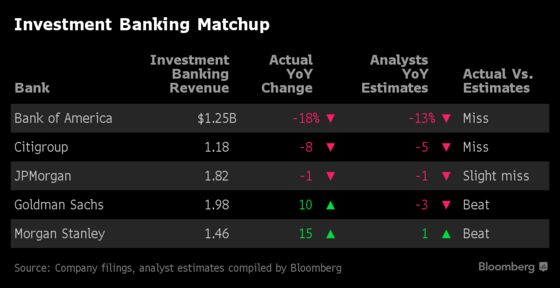 Trading desks turned in a muted performance across Wall Street, largely owing to subdued volatility. The trading division at New York-based Goldman Sachs, which has undergone major leadership changes since Solomon was appointed heir apparent earlier this year, turned in $3.1 billion in revenue, slightly below analysts' expectations as fixed-income trading revenue slumped 10 percent.
A string of senior leaders have left in recent months, including the stock-trading head and a top fixed-income salesman. And earlier this year, the firm lost its top two trading executives: Pablo Salame and Isabelle Ealet.
The bank pointed to significantly lower third-quarter revenue in interest-rate products and weakness in credit and mortgages.
Goldman's investing and lending division, which puts money to work in equity and debt securities, turned in revenue of $1.86 billion. That was 1 percent lower compared with the same quarter last year. The firm provided a figure for provision for losses on loans and lending commitments totaling $174 million, almost three times more than what they had set aside last year.
Here's a quick summary of other key numbers:
Net income rose 19 percent to $2.52 billion, or $6.28 a share. The average estimate of analysts surveyed by Bloomberg was for adjusted earnings of $5.38 a share.
Companywide revenue climbed 4 percent to $8.46 billion, compared with the $8.36 billion estimate.
Equity-trading revenue increased 8 percent to $1.79 billion.
Debt-underwriting revenue fell 6 percent to $632 million while the firm pulled in $432 million from equity underwriting, more than double a year ago.