Golden Nugget Is Approaching Caesars for Merger
(Bloomberg) -- Tilman Fertitta, the owner of the Golden Nugget casinos, has approached Caesars Entertainment Corp. about a possible merger, according to people familiar with the billionaire's plans.
The proposed deal would see closely held Golden Nugget acquired by its larger Las Vegas-based rival in a merger that values Caesars at about $13 a share, said one of the people, who asked not to be identified because the discussions are private. Reuters first reported Fertitta's interest earlier Wednesday.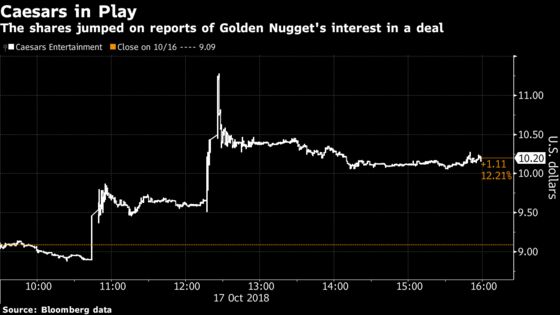 A merger could help Fertitta, who borrowed heavily to buy the Houston Rockets basketball team for $2.2 billion last year, greatly increase the properties under his control while folding his debt into a larger company. He's expanded his casino business in recent years, opening a resort in Louisiana in 2014 and remodeling properties in Las Vegas and Atlantic City, New Jersey.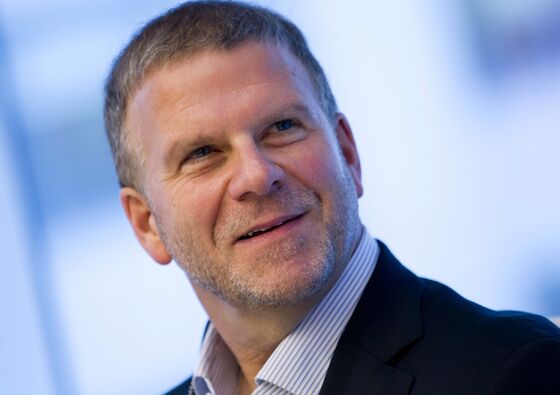 Investors welcomed the prospect of a deal. Shares of Caesars rose 12 percent to $10.20 at the close in New York after reaching $11.28 intraday. The stock was down 28 percent this year through Tuesday. Revenue on the Las Vegas Strip has been tepid and Caesars, with a market value of $7.07 billion, disappointed shareholders this summer with a warning of tough conditions in the top U.S. gambling market.
"At the very least, it brings interested parties to the table and reminds investors that nonsensical valuations don't go unnoticed within the industry," Deutsche Bank said in a note to investors.
Fertitta, 61, made his fortune in the restaurant business, building Landry's Inc. into a national powerhouse featuring brands such as Saltgrass Steak House and Joe's Crab Shack. He often markets his casino and restaurant properties together in magazine ads and via his customer loyalty program. His closely held casinos also feature his eateries -- a strategy that could grow with the addition of Caesars, the largest owner of casinos across the U.S., with more than 30 properties.
Fertitta's empire, including the restaurants and casinos, generated about $650 million in earnings before interest, taxes, depreciation and amortization on sales of $3.5 billion last year, according to data collected by the Bloomberg Billionaires index. The company has about $4.3 billion in total debt.
Under the plan proposed by Fertitta, who would become chairman and chief executive officer of the combined company, Caesars would sell the land and buildings associated with Landrys and Golden Nugget to a real-estate investment trust, said one of the people. Caesars would use some of that cash to repurchase its own shares, with Fertitta emerging as the largest single owner, the person said.
Caesars has been led since 2015 by Mark Frissora, former chief executive officer of Hertz Global Holdings Inc. Many of the company's largest shareholders are private equity funds such as Apollo Global Management and TPG, or distressed debt investors, that came aboard in a 2008 leveraged buyout or through a subsequent bankruptcy and restructuring of its largest division.
Apollo declined to comment. TPG didn't immediately respond to a request for comment.