Gold Falls Again as Demand for Havens Wanes
(Bloomberg) -- Gold futures declined, extending its retreat from a six-year high last week as the soon-to-be clinched U.S.-China trade pact undercuts the case for havens. Palladium hit a fresh record.
Comex gold have lost about 1% this week and analysts including those at ABN Amro Bank NV and BMO Capital Markets predict prices may decline further ahead of the signing on Wednesday. The shift has been reflected in an outflow of holdings from exchange-traded funds, which fell more than 20 tons over the four sessions to Monday, the most in a four-day period since November.
"Investors who bought gold for the trade uncertainty will likely take profit," said ABN Amro strategist Georgette Boele.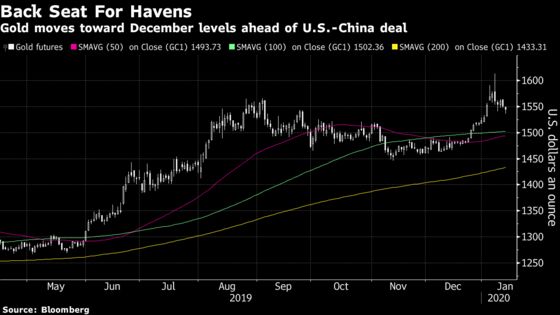 Gold futures, which briefly rose above $1,600 an ounce last week during the U.S.-Iranian standoff, lost ground for a second session, with the February contract falling 0.4% to settle at $1,544.60 an ounce at 13:30 on the Comex in New York.
Prices could decline toward $1,525 or even lower as risk-on sentiment returns to the market, said BMO analyst Colin Hamilton.
The recent declines come after the rally had pushed the metal's 14-day relative-strength index to levels that signaled the advance could run out of steam.
"The gold price is no longer overbought as it seems," Carsten Fritsch, an analyst at Commerzbank, said by phone Tuesday. "We're still in correction mode after the very strong increase early in the year and in late 2019." That correction is being driven by continued bullish sentiment across the financial markets amid anticipation of the phase-one trade deal between the U.S and China, he said.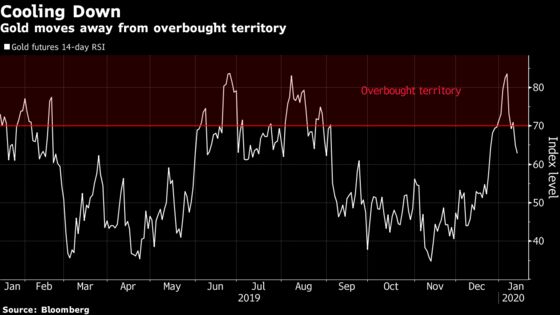 In other precious metals, silver also declined on the Comex, while palladium and platinum rose on the New York Mercantile Exchange. In the spot market, palladium gained for a ninth session, hitting a fresh record of $2,191.64 an ounce.