Gold Rises to Eight-Week High as Dollar Falls; Platinum Surges
(Bloomberg) -- Gold rose to an eight-week high as the dollar weakened with traders awaiting results from key elections in Georgia and weighing surging coronavirus cases. Platinum and palladium surged.
A gauge of the greenback traded close to the lowest since February 2018 as crude oil paced a broad commodity rally. U.S. electoral races in Georgia will decide which political party controls the Senate. Germany extended its lockdown and tightened restrictions as pressure mounts on Chancellor Angela Merkel's government to contain the coronavirus spread and speed up vaccinations.
"Gold has remained robust in the face of the continued onslaught of the virus and its variants while the dollar remains under pressure," StoneX analyst Rhona O'Connell said in a note. Platinum surged "possibly on fears of potential disruption to logistics on any flight ban out of South Africa," the world's largest producer of the metal.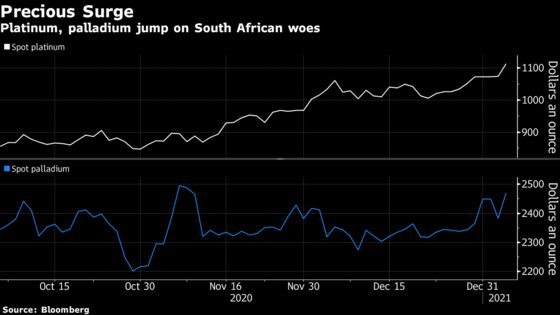 Spot gold rose 0.5% to $1,951.83 an ounce at 3:08 p.m. in New York after reaching $1,953.09, the highest since Nov. 9. Futures for February delivery on the Comex rose 0.4% to settle at $1,954.40.
Spot platinum jumped as much as 4.1%, and palladium surged as much as 6% to 2,525.53 an ounce, the highest since March.
"The reflation element combined with a weaker dollar and lower real yields all point to further short-term gains" for gold, Ole Hansen, head of commodities strategy at Saxo Bank A/S, wrote in a note.
The somber Covid outlook appears to have revitalized demand for gold from investors seeking havens. On Monday, holdings in SPDR Gold Shares, the largest bullion-backed exchange-traded fund, posted the biggest daily inflow since September following withdrawals in the last three months of 2020.
The U.S. Senate contests will determine whether Democrats have control of Congress to push President-elect Joe Biden's agenda. That would aid gold, according to Saxo Bank's Hansen, as the new administration would be able to increase spending and boost stimulus.