Gold Holds Near Four-Month High as Fund Buying, ETFs Buoy Demand
(Bloomberg) -- Gold steadied near the highest in more than four months amid signs that investors are turning more bullish on the precious metal.
Hedge funds and other large speculators raised their net-long position in U.S. gold futures and options to the highest since January, government data showed Friday. Holdings in exchange-traded funds backed by bullion have climbed in May, following three months of outflows. Declines in the dollar and bond yields on Monday also helped gold.
Gold has posted three straight weekly gains, bringing it closer to wiping out losses for the year after prices slumped in the first three months. The metal has advanced on wobbles in the greenback on Treasury yields, and demand for bullion as a store of value is rising as inflation worries threaten to undercut economic growth. Investors were also weighing the extreme volatility in Bitcoin, which may have lent an added pillar of support.
"Gold prices are trending higher as weakness in cryptocurrencies and rising demand for inflation-hedge assets buoyed the appeal of the precious metal," said Margaret Yang, a strategist at DailyFX. "Recent ETF data showed that investors are stockpiling the yellow metal for the first time since January, underscoring rising appetite."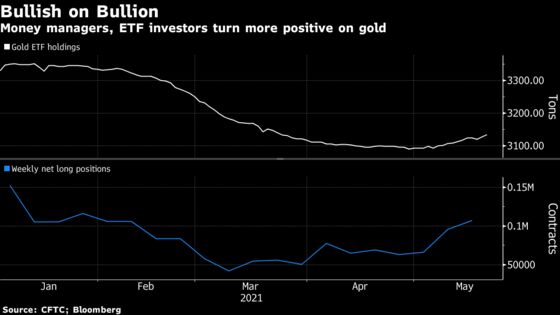 Spot gold rose 0.1% to $1,883.03 an ounce by 3:01 p.m. in New York, after reaching $1,890.13 last week, the highest since Jan. 8. Futures for August delivery on the Comex rose 0.4% to settle at $1,886.70. Silver and platinum also advanced, while palladium fell.
"The recent move lower in real rates, accompanied by further U.S. dollar weakness, have been the key drivers of gold's rebound," Morgan Stanley analysts led by Susan Bates said in a note on Monday. Still, "we continue to see a risk of a sharper sell-off similar to that seen in 2013 once tapering begins in 2022, but in our base case we assume price remains supported in the $1,600s per ounce until the first Fed rate hike."
Former U.S. Treasury Secretary Lawrence Summers said cryptocurrencies could stay a feature of global markets as something akin to "digital gold," even if their importance in economies will remain limited. Cryptocurrencies offered an alternative to gold for those seeking an asset "separate and apart from the day-to-day workings of governments," he said.
On Monday, Bitcoin rebounded from its roller-coaster weekend, with prices on track for the biggest gain in more than three months.