Gold Edges Up as Traders Assess Brexit Trade Deal, U.S. Relief
(Bloomberg) -- Gold steadied and most base metals were higher in holiday-thinned trading, with investors assessing the latest developments of a virus-relief spending package in the U.S. and the final announcement of a post-Brexit trade deal.
U.K. and European Union negotiators have finalized their historic post-Brexit trade agreement, averting the threat of an acrimonious breakup. Republicans on Thursday objected to House Majority Leader Steny Hoyer's attempt to replace the $600 payments in the latest pandemic relief legislation with the $2,000 payments Trump said he wants. Democrats will try again Dec. 28, with a similar new bill that will be put to a full vote on the House floor.
"Gold prices are benefiting from a Brexit trade deal breakthrough that paved the way for a weaker dollar," said Edward Moya, a senior market analyst at Oanda Corp. The metal could see further gains if the U.S. virus-aid impasse is resolved, he said.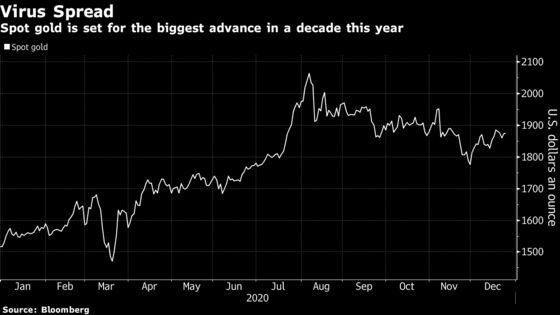 Investors are looking past Trump's demand for changes to U.S. pandemic relief, expecting that stimulus spending will come sooner or later. A gauge of the dollar retreated 0.1% after a 0.4% decline on Wednesday.
Spot gold edged up 0.3% at $1,874.02 an ounce at 12:54 p.m. in New York. Prices are up nearly 24% this year, on course for the biggest annual gain in a decade. Futures for February delivery on the Comex rose 0.3% to settle at $1,883.20. Aluminum led gains among most base metals on the London Metal Exchange, rising 1.2% to settle at $2,030 a ton, while copper fell 0.7%.
The LME's index of base metals reached a seven-year high last week, driven by prospects of a new long-term bull market for commodities as economies recover from the coronavirus crisis.