Gold Nears Nine-Month Low as Yields Gain on Biden Spending Plan
(Bloomberg) -- Gold extended declines, approaching a nine-month low as the pace of U.S. vaccine rollouts and plans for further stimulus boosted bond yields and the dollar.
Treasury yields rose as traders weighed the outlook for growth and inflation, with the U.S. ramping up Covid-19 vaccine efforts and President Joe Biden getting set to announce spending plans. That helped push non-interest-bearing gold below $1,700 an ounce after prices held above that level for three weeks.
Bullion is heading for its first quarterly decline since 2018 amid a nascent global recovery that's reduced the haven appeal of the metal. In recent weeks, its price has mostly treaded water, but faces renewed pressure from a resilient dollar and rising bond rates. A selloff in exchange-traded funds backed by gold is further eroding support.
"We see increasing rates and a stronger dollar from Biden's spending plans and sped-up vaccine efforts," said TD Securities analyst Ryan McKay. "With equities holding pretty steady, it implies this trend can continue without any action from the Fed and that will continue to weigh on gold. We have even seen on days when rates are down gold has struggled to find any upside which really highlights how little buying interest there is at the moment."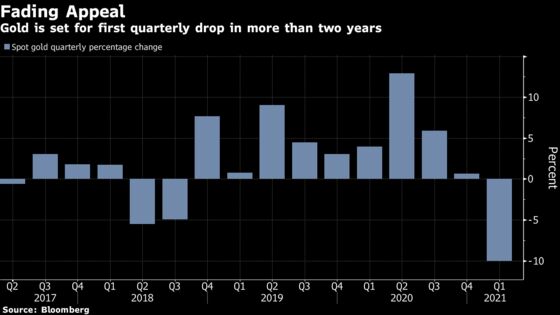 Biden, in an address Wednesday in Pittsburgh, will detail a mass expansion of government spending aimed at reducing inequality and strengthening infrastructure. A revamp of the tax code is also part of the plan and is already proving divisive among economists and lawmakers. He said Monday that 90% of U.S. adults will be eligible to get a Covid-19 shot by April 19.
Spot bullion fell 1.6% to $1,685.18 an ounce by 1:37 p.m. in New York, approaching the level reached earlier this month that was the lowest since June. Futures for June delivery on the Comex lost 1.7% to settle at $1,686 an ounce. Spot palladium climbed as much as 2.7%, while platinum and silver declined. The Bloomberg Dollar Spot Index rose 0.4%.
After breaking below $1,700, gold's "support zone at $1,650-$1,670 an ounce will probably be tested," below which it could fall to $1,600, said ABN Amro Bank NV analyst Georgette Boele.