Gold Extends Losses as Virus Panic Spurs Investors to Sell
(Bloomberg) -- Gold tumbled again as investors rushed to raise cash to cover losses in other volatile markets, with global leaders striking a pessimistic tone over the likely economic impact of the coronavirus crisis.
In a sign of the wild swings seen in markets during the health crisis, U.S. equity futures rebounded from their biggest drop since 1987, advancing alongside the dollar. President Donald Trump has warned of a possible recession and that the economic disruption from the virus could last into summer.
A wave of central bank stimulus and a pledge from the leaders of the Group of Seven to do whatever is necessary to ensure a globally coordinated response has failed to quell investor concerns about the economic hit from the coronavirus.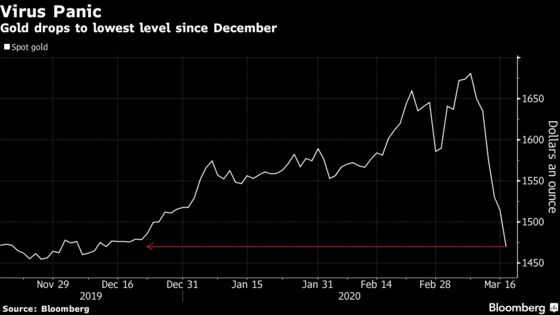 Spot gold dropped 2.9% and was at $1,470.71 an ounce by 11:56 a.m. in London. Prices are down more than 13% from a seven-year high reached earlier this month, and tumbled the most since 1983 last week.
Other metals also extended losses, with silver dropping more than 5%, platinum losing 4% and palladium falling 2.2%.
The sell-off in precious metals "reaches historic dimensions," Commerzbank AG analyst Daniel Briesemann said in a note.
"Gold declines remain linked to investors' need for cash," Stephen Innes, chief market strategist at AxiCorp Ltd., said in a report. "A constant question on every bullion investor's mind is why is gold retreating when uncertainty and risk-off sentiment is rising? Gold's recent declines are chalked up to margin-related selling as equities fell."
More and more countries are imposing travel restrictions and have closed schools, restaurants and canceled sporting events as deaths from the virus exceeds 7,000 globally.