Doctors and Economists Have the Same Prescription for Grab
(Bloomberg Opinion) -- GrabTaxi Holdings Pte has a lot of smart people on its payroll.
Let's hope the transportation startup spends more time listening to its economists. Yeah I know, startup and economics in the same sentence.
Grab should have seen this coming. After all, its founders Anthony Tan and Tan Hooi Ling are Harvard Business School grads. Hooi Ling herself is a McKinsey & Co. alumnus and usually the smartest person in any room she enters.
The company's first mistake was to increase prices so quickly and overtly after the deal. Surely it could have let the ink dry before trying to suck more money out of both riders and drivers. Singapore's competition watchdog also noticed, and in September punished both companies with fines. Other initiatives included a reset of the pricing algorithm and an end to driver-exclusivity contracts.
Grab's other major mistake was to implement a raft of measures while trying to integrate with the local unit of the U.S. company. These included a change to incentive structures for customers and service providers. You could argue that the sharing economy moves so fast that Grab couldn't wait to digest Uber before adding in the other tweaks.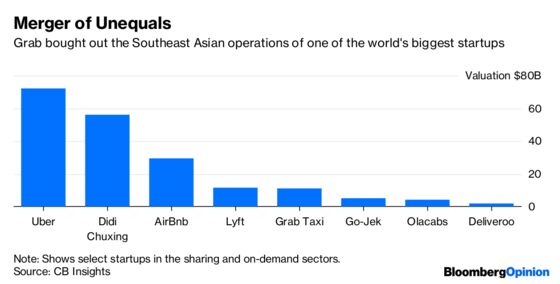 Grab had little choice but to make that acquisition, though. Uber's new management was shopping around its Southeast Asia business, and if Grab didn't get it then Go-Jek would have. Since neither buyer is short on cash, and had enough equity to trade, Grab figured a blocking move was better than watching Uber fall into another's hands. 
That was a strategic decision, not an economic one. You could argue that the deal was as much about Uber's food-delivery business as it was about transport, with delivery offering better margins. Go-Jek would have enjoyed less of a boost on that front because it's already strong in delivery.
Now Grab is left defending a market share of around 80 percent in Singapore just as Go-Jek enters and two months after a stern warning from regulators about anti-competitive behavior.
The natural startup instinct would be to retaliate against Go-Jek with incentives for customers and drivers. It has enough cash to wage a prolonged war, not just in Singapore but throughout the region, including Indonesia and Vietnam.
Grab's problem, as for all players in the sharing economy, is that it's been feeding all parties sweeteners for years. The moment it yanks that candy they cry like babies.
Economists and doctors agree that too much sugar isn't healthy, even if it is a convenient pacifier.
Instead, Go-Jek's entry offers Grab a chance to rethink its approach. It should hold fast on incentives and price both supply and demand according to sound economic principles that ensure some profit for everyone, including itself. Without a doubt it would lose share, but it won't be accused of anti-competitive behavior. Meanwhile management will learn better to operate a business that doesn't live and die by gimmicks.
A reduction in share might actually be a good thing, because it would ease the burden on demand while the maintenance of higher fares could keep enough drivers on the platform to ensure continued supply. That would give the economists a chance to see what a true supply-demand equilibrium looks like.
If that works, and I think it will, then Grab will have the chance to replicate the model throughout the region where customers are still enjoying their sugar fix. Market share doesn't guarantee sustained profits anyway, especially in a business where there are no moats being built.
Going cold turkey is tough. Yet if these startup founders want to show their mettle, it's time to take the harder route.
This column does not necessarily reflect the opinion of the editorial board or Bloomberg LP and its owners.
Tim Culpan is a Bloomberg Opinion columnist covering technology. He previously covered technology for Bloomberg News.