Go-Jek to Launch Ride-Hailing Beta App in Singapore to Take on Grab
(Bloomberg) -- Go-Jek is counting on the many disaffected customers of Grab's ride-hailing service in Singapore to help its battle to win users in the city-state.
Go-Jek's beta app will become available on Android and Apple devices to a limited number of consumers in Singapore as it gets its ride-hailing business running in the country, the company said in a statement Thursday. The Jakarta-based startup asked for feedback from users during the early days so that it can improve quality with a full service expected in the first quarter of 2019.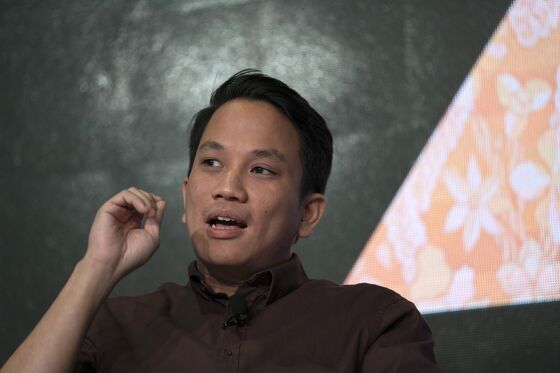 Many consumers and drivers have looked forward to a new competitor in Singapore since Grab took control of its home market by acquiring the Southeast Asian business of Uber Technologies Inc. That deal eliminated its primary competition in the region and was followed by rising complaints from users about higher prices, delays and lapses in customer service as drivers expressed frustration about reduced income.
While Go-Jek began as a mobile app offering motorcycle taxi and logistics in 2015, it's now expanded to have 100 million customers and 300,000 merchants for everything from beauticians to food delivery. The Singapore business will start with ride-hailing and then add more options in the future, a similar strategy to its entry to Vietnam. Payments and food delivery services are likely offerings after the initial launch.
"Since 2015, we started out as a platform and all our product features gear toward creating different experience for consumers, merchants and drivers," Go-Jek President Andre Soelistyo said at a media briefing in the city-state. "We've done it before. It's not a lip service. That gives us confidence."
After Singapore, Go-Jek plans to enter Thailand, and then more countries in Southeast Asia, according to Soelistyo.
"For Singapore, another ride-hailing competitor cannot come soon enough," said Benjamin Roberts, a Singapore resident unhappy with Grab's cancellations and surcharges.
Go-Jek, with backers including Tencent Holdings Ltd., Temasek Holdings Pte and Google, is keen to tap into that sentiment.
"When there is only one dominant player in the market, the service level goes down and they stop hearing about customer complaints," Soelistyo said. "That's a big starting point, to provide another choice."