GM Shows Money Can Be Made in the Boring, Old Car Business
(Bloomberg) -- General Motors Co. is showing that the old-school business of carmaking can still be sexy.
The automaker's shares surged as much as 8.8 percent on Wednesday after GM posted a surprise jump in quarterly profit and announced fresh cost cuts. The earnings belied expectations for the sector that were awfully low -- analysts were using phrases like ugly and predicting a bloodbath.
It's been more common for GM's stock to get a bump lately because of its Cruise self-driving car unit, which has lured billions of dollars in investment from a SoftBank fund and Honda Motor Co. This time, it's getting credit for selling new pickup trucks and sport utility vehicles at fatter prices in the U.S., plus higher-margin Cadillacs are catching on in China.
"The issue has not been financial performance, it has been negative investor sentiment," said David Kudla, chief executive officer of Mainstay Capital Management LLC, which holds GM shares. "Strong performance in China and positive forward guidance could change that sentiment."
Adjusted profit unexpectedly rose to $1.87 a share when analysts anticipated a decline from a year earlier, as GM overcame slowing demand. Quarterly revenue rose the most since 2011.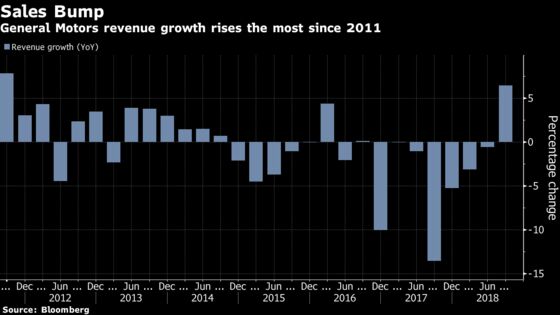 GM pulled this off despite its global retail sales falling 15 percent for the quarter. The company is minding costs now and making cuts while times are good. Chief Executive Officer Mary Barra sent a letter to staff Wednesday offering buyouts to salaried employees in North America who have been at the company at least a dozen years. About 18,000 workers are eligible.
"Even with the positive progress we've made, we are taking proactive steps to get ahead of the curve by accelerating our efforts to address overall business performance," Pat Morrissey, a GM spokesman, said in an emailed statement. "We are doing this while our company and economy are strong."
GM said that it expects profit for the year to hit the high end of the range it has forecast, between $5.80 and $6.20 a share. Earnings could even exceed that amount depending on macroeconomic factors, spokesman Tom Henderson told reporters at the company's headquarters in Detroit.
"We're continuing to execute our plan both in core and in future mobility," said Dhivya Suryadevara, GM's chief financial officer. "With pricing, our discipline came through this quarter. It's absolutely sustainable."
Cadillac sales in China are up 20 percent this year, and the new XT4 small SUV just went on sale in the summer. The brand will start selling five more new models in the next three years, so Suryadevara expects growth to continue.
GM's China income hit a third-quarter record, even as its core Buick and entry-level Baojun brands were down in the quarter.
In the U.S., the automaker overcame slower retail sales by selling more expensive models. New sport utility vehicles including the Chevrolet Traverse and Equinox have been selling well and commanding better prices. GM has also started shipping its new Chevy Silverado and GMC Sierra pickups to dealers.
GM made about 45,000 of the new trucks in the quarter and has started to build inventory at dealers. That helped boost North American wholesales by 11 percent during the quarter. That more than offset a roughly $400 million headwind from higher commodity costs, Suryadevara said.
The automaker did benefit from a lower tax rate in the quarter, which added about 16 cents a share to earnings, said James Albertine, an analyst with Consumer Edge Research.
Investors still loved the news. In addition to the stock rally, GM's bonds were among the biggest gainers in the investment-grade market Wednesday. Its notes due in 2049 rose about 2.5 cents to 94.09 cents on the dollar, according to Trace bond-price data. The cost to protect the company's debt against default for five years plunged more than 25 basis points, the most in four years, according to data provider CMA.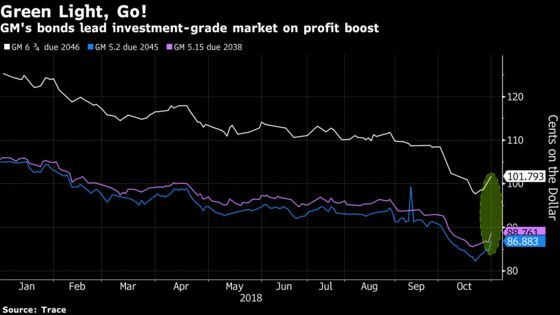 While GM's core business showed strong profit, its Cruise unit is still in the incubator. The business lost $534 million so far this year, and the company doesn't have a timeline for that business to start earning money.