GM's Resilient Profit Shows Why CEO Mary Barra Decided to Cut Jobs
(Bloomberg) -- General Motors Co. ended last quarter on a strong note, blowing away Wall Street's earnings estimates. Drilling into the numbers points to a harsher reality that explains why the Detroit carmaker is cutting thousands of jobs: Profit still tumbled from a year earlier.
Sure, GM is selling lots of expensive pickup trucks and sport utility vehicles in the U.S., which helped its average vehicle-sales price hit a record $36,000. That played a big role in the better-than-expected quarterly earnings. GM's margin was 8 percent last year on an earnings before interest and taxes basis, easily beating rival Ford Motor Co.'s 4.4 percent.
But GM is up against an industrywide malaise as car sales plateau in the U.S. and fall in China. Chief Executive Officer Mary Barra moved in November to eliminate 14,000 jobs and potentially shut seven plants worldwide. The drastic cost-cutting measures, coupled with the sales of the newer, pricier trucks, are reasons GM was able to project that it'll increase its profit in 2019.
"We navigated significant headwinds in 2018 to deliver another year of strong results, demonstrating the earnings resiliency of this company," said Chief Financial Officer Dhivya Suryadevara in a statement. "The actions we've been taking to shape a stronger, more profitable portfolio of businesses position GM for long-term success."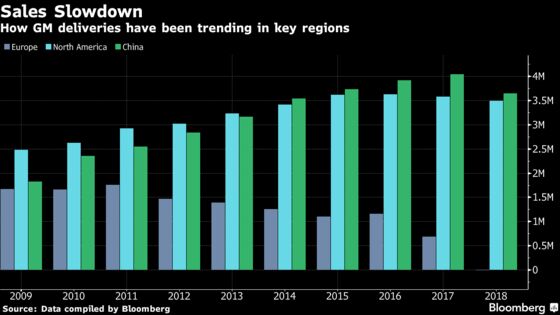 Another reason to cut costs: rising expenses to develop the cars of the future. Losses at the GM Cruise self-driving-car unit widened to $728 million last year and will probably cost the automaker $1 billion this year. Barra said Wednesday electric vehicles won't reach profitability until early next decade.
GM stock traded as high as $40.74 in New York after GM posted earnings per share of $1.43 for the fourth quarter, compared with the $1.25 average of analysts' estimates. While a handy beat, that is down from $1.65 a share in the year-earlier quarter, in part because the company struggled in key international markets.
GM telegraphed its results in January, when it gave a lengthy presentation about its outlook for 2019 to investors. The strength of Wednesday's quarterly earnings still took some analysts by surprise. The new Chevrolet Silverado and GMC Sierra pickups are now hitting the market in greater numbers, which helped boost GM's results in the U.S. during the quarter.
Profit in North America rose 5.8 percent to $3 billion, while GM's international operations lost $48 million. That segment includes China, which still made money for GM but saw a decline in earnings. The equity income the automaker took home from its Chinese joint venture fell to $307 million from $504 million in the quarter, even though Cadillac sales rose 17 percent in the country. GM also saw a $200 million hit to profit because of currency-exchange rates in its South American business.
The Detroit-based company is trying to manage what CEO Barra described as an "increasingly challenging" market in China. GM is cutting costs, reining in production and pushing sales of Cadillac to offset the declines at its mainstream brands, Buick and Chevrolet.
"Challenging" is a word many automakers have used to describe their markets in recent months as they fight through a U.S.-China trade spat and slowing demand in Europe, China and the U.S.
A few hours before GM posted its results, German carmaker Daimler AG announced that it is preparing a "comprehensive" cost-cutting program to cope with an "extremely challenging" environment in 2019. And a few hours before that, Japan's Toyota Motor Corp. posted a 45 percent slump in its North American business for last quarter, as consumer preferences shift away from sedans such as the Camry toward pickup trucks and sport utility vehicles.