GM Profit Beats Estimates as Trucks Make Up for Slower Sales
(Bloomberg) -- General Motors Co. is looking like a port in the storm as new trucks and cost-cutting efforts pad profit in the midst of slowing industry sales.
While adjusted earnings slipped from a year earlier to $1.64 a share, GM easily beat analysts' average estimate for $1.45 and maintained its outlook for a stronger second half. Chief Executive Officer Mary Barra continues to expect near-record profit for 2019 as revamped heavy-duty pickups begin rolling into showrooms.
"Our results demonstrate the earnings power of our full-size truck franchise, with more upside to come," Barra said in a statement. GM shares rose as much as 3.3% to $41.67 shortly after the open of regular trading.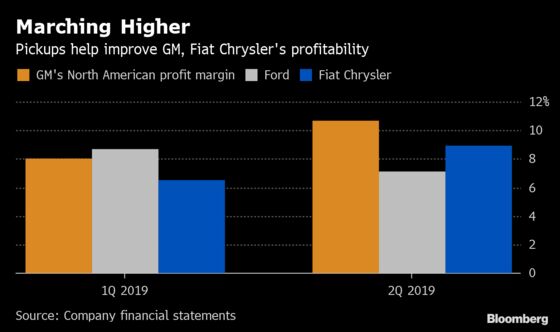 GM's profit and forecasts show pickups are Detroit's dividing line at this juncture. Introductions of redesigned models are buoying GM and Fiat Chrysler Automobiles NV through slumping demand for new vehicles in markets including the U.S. and China. Ford Motor Co., which by contrast has older trucks to offer and is in the midst of costly SUV changeovers, last week missed earnings estimates and issued a disappointing forecast for the year.
Cost cuts are also setting GM apart from the pack, boosting profit by about $700 million in the second quarter and $1.1 billion in the first half. The automaker reaped savings from ceasing production at its Chevrolet Cruze car plant in Lordstown, Ohio, which was making a low-margin model on just one shift. GM also eliminated upwards of 8,000 salaried jobs in February.
"Amid what has been a tough 2Q earnings season for most auto stocks, GM proved to be an anomaly," Dan Levy, an analyst at Credit Suisse, said in a report to clients.
GM's revenue fell 1.9% in the quarter to $36.1 billion, narrowly topping estimates. North American income rose to $3 billion, and the automaker's profit margin improved to 10.7%.
Beefier versions of the Chevrolet Silverado and GMC Sierra pickups are a huge factor in how GM fares in its home market. Each truck sold for about $45,500 in the quarter, roughly $8,400 more than the average transaction price for all the company's vehicles in the U.S. And since the models are among the top sellers in the industry, they're enormously profitable.
GM is having a tougher time in China, where the auto industry is in the midst of a historic slump. Automotive equity income from its operations there plunged 60% to $235 million, and the automaker expects the industry to remain weak through the second half of the year.