GM Cruise Valuation Swells to $19 Billion as T. Rowe Buys In
(Bloomberg) -- General Motors Co.'s self-driving unit drew $1.15 billion in fresh investment, with T. Rowe Price Associates Inc. joining existing backers including Honda Motor Co. and SoftBank Vision Fund.
In what is GM Cruise LLC's third major investment in the last year, the unit is now valued at $19 billion, according to a statement. Cruise raised $2.25 billion from the SoftBank Vision Fund and $2.75 billion from Honda last year.
Cruise continues to tap outside investors as it races the likes of Alphabet Inc.'s Waymo to develop self-driving vehicles. GM wants to start an autonomous ride-hailing service at the end of this year and needs cash to bring along the technology and build out an infrastructure for that kind of business. The automaker is spending about $1 billion a year on Cruise.
"This is probably the most direct way you can invest in autonomous vehicles currently, outside of investing in Google, which is pretty diffuse," said Mike Ramsey, an automotive consultant with researcher Gartner Inc. "Autonomous vehicles could become a super massive segment of the economy and be an industry-changing technology."
GM shares climbed as much as 2.1 percent and were up 1.2 percent to $38.56 as of 1:15 p.m. Tuesday, as the benchmark S&P 500 Index declined.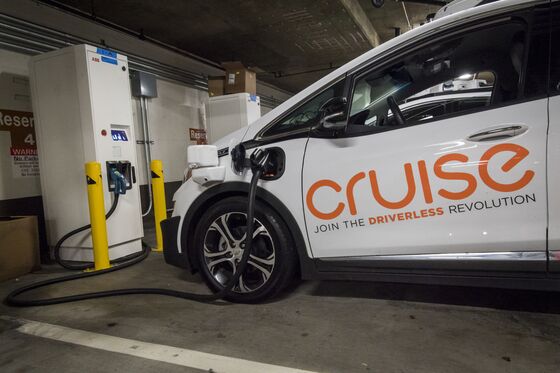 GM owned about 85 percent of Cruise before the latest investment and still has a large majority of the shares. The carmaker may at some point spin off Cruise through an initial public offering or sale: The unit's chief executive officer, former GM President Dan Ammann, is incentivized to arrange such a deal as part of his compensation package.
"Developing and deploying self-driving vehicles at massive scale is the engineering challenge of our generation," Ammann said in a statement. "Having deep resources to draw on as we pursue our mission is a critical competitive advantage."
Cruise lost $728 million last year, and GM expects the tab to be about $1 billion this year, the company said in January.
What Bloomberg Intelligence Says

"The investment is pushing the $19 billion valuation on the unprofitable GM Cruise toward that of GM's global operations. GM Cruise reported $25 million in 1Q net revenue -- vs. GM's $34.8 billion -- and an Ebit loss of $169 million, indicating the potential of self-driving vehicles can attract investors faster than profitable vehicle manufacturing."
-- Kevin Tynan, global autos analyst
Click here to read the research
Kyle Vogt, Cruise's chief technology officer, and Dan Kan, chief operating officer, co-founded the San Francisco-based company in 2013. GM acquired it for $581 million in May 2016, paying just $291 million in cash and the remainder in stock. The total value of the deal was about $1.5 billion when taking into account agreements GM entered into that are tied to key personnel staying on and reaching certain performance targets.
As of October, when Honda invested in Cruise, the company was valued at $14.5 billion.
T. Rowe Price Group Inc. is a Baltimore-based investment firm known for its actively managed mutual funds. It had $1.08 trillion in assets under management as of March 31, 2019. A spokesman declined to comment beyond GM's statement.