GM Sees Topping Outlook as Truck Plants Ramp Up; Shares Jump
(Bloomberg) -- General Motors Co. surged the most in four months after saying plans to boost output at two truck plants will allow the company to beat its first-half forecast and hit the high end of its full-year target.
GM will increase production of especially profitable heavy duty pickups in Flint, Michigan, and of midsize pickups in Wentzville, Missouri, according to a statement Thursday. The company has done a better job than many rivals in securing semiconductors during scant supply worldwide and kept output at higher levels.
First-half results will be "significantly better" than its previous outlook, the company said. GM had forecast $5.5 billion in profit for the period.
GM jumped 6% to $63.22 at 10:36 a.m. in New York, it biggest intraday gain since Jan. 28. The stock had surged 43% this year through Wednesday, while the S&P 500 advanced 12%. Ford Motor Co. shares climbed 6% and Stellantis NV reversed premarket losses on the GM news.
"The global semiconductor shortage remains complex and very fluid, but the speed, agility and commitment of our team, including our dealers, has helped us find creative ways to satisfy customers," Phil Kienle, GM's vice president of North America Manufacturing and Labor Relations, said in the statement.
The Detroit automaker said it would begin pickup production in Oshawa, Ontario, in the final three months of this year, which is a quarter earlier than planned.
"They are going to gain truck market share because they will open Oshawa in the fourth quarter," said Alan Baum of Baum and Associates, an industry analytics firm. "Look at what Ford has had to cut down." He cited decreased truck production near Kansas City, Missouri, and in Dearborn, Michigan. Stellantis has scaled back production as well.
GM said it expected to reach the high end of its previous full-year forecast of between $10 billion and $11 billion in earnings before interest and taxes.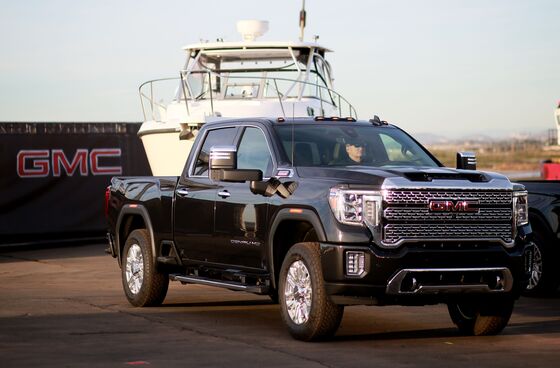 To get there, the automaker will boost production of the Chevrolet Silverado HD and GMC Sierra HD full-size pickups by about 1,000 trucks a month beginning in mid-July. GM credited production-line efficiencies achieved at its Flint assembly plant. Output of the Chevrolet Colorado and GMC Canyon midsize pickups is increasing by about 30,000 total units from the middle of last month through the week of July 5.
Another bright spot is Buick, which has had more inventory than other brands and been able to post its best sales in 20 years.
GM has made sacrifices, however, cutting production of small sport utility vehicles in Canada and Mexico in recent months. Honda Motor Co., Nissan Motor Corp. and Toyota Motor Corp. stand to gain from the decisions by GM, Ford and Stellantis to divert chips to pickups.
"They will gain profits by making trucks, but they're losing the opportunity to gain market share because they're retreating away from the small SUV market," Baum said.