Global Truck Markets Have Peaked, BofAML Says in Downgrade Note
(Bloomberg) -- Global truck markets are likely to decline for the next two years while North America Class 8 order cancellations may start to pick up, BofAML said.
"Fears of slowing growth have already hit markets, but we haven't even seen a weaker Class 8 truck order number yet," analyst Ross Gilardi wrote in a note. "Our global truck model predicts a 6% decline in 2019, accelerating to a 10% decline in 2020."
Gilardi says some truck stocks are already baking in the peak, like neutral-rated Paccar Inc., Cummins Inc., and Allison Transmission Holdings, though he sees additional earnings risk for Wabco Holdings and CNH Industrial given their European exposure.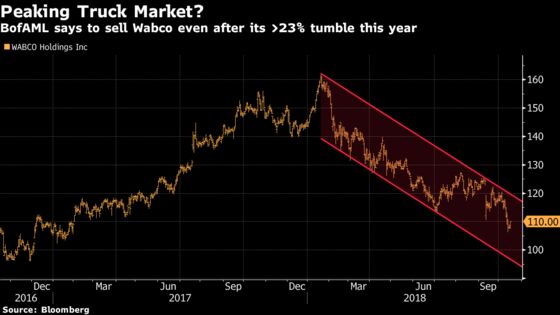 Wabco's rating is double-downgraded to an underperform, the only equivalent sell out of 20 analysts who cover the stock, according to Bloomberg data. The price target moves to $95 from $130, which implies 14 percent downside to Tuesday's close. CNH Industrial gets downgraded to a neutral.
Wabco, which is indicated lower by several points after already having fallen more than 23 percent year-to-date, reports third-quarter results Thursday before the market open.