Global Trade Woes Weigh Down Euro-Area Economic Confidence
(Bloomberg) -- Confidence in the euro-area economy dropped to its lowest level in a year, suggesting that the global trade conflict can weigh down growth momentum.
The European Commission's measure of corporate and household sentiment index fell for a seventh straight month in July. Among executives, their view of the business climate dropped to an 11-month low.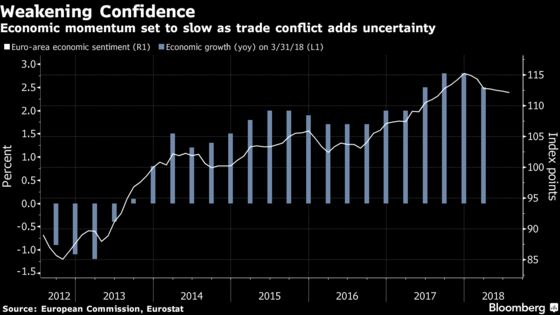 The report adds to signs that global uncertainty may be gaining the upper hand over strong domestic fundamentals in the 19-nation bloc. While declining unemployment is bolstering consumer spending and investment, companies with a strong export focus are growing increasingly concerned.
A gauge of export orders declined to the lowest since August last year and a measure of production expectations slipped.
| | Actual | Survey | Prior |
| --- | --- | --- | --- |
| Economic Sentiment | 112.1 | 112.0 | 112.3 |
| Industry | 5.8 | 6.7 | 6.9 |
| Services | 15.3 | 14.2 | 14.4 |
| Consumer | -0.6 | -0.6 | -0.6 |
| Business climate | 1.29 | 1.35 | 1.38 |
Daimler AG warned last week that lower earnings at Mercedes-Benz passenger cars will extend into the third quarter because of higher trade barriers. Automakers around the world have been detailing the injury they face under the tariff battle between U.S. President Donald Trump and his counterparts abroad -- even as Trump and European Commission President Jean-Claude Juncker agreed to suspend new import tariffs while negotiating lower barriers to transatlantic commerce.
European Central Bank Mario Draghi has singled out the threat of protectionism as a prominent risk to an otherwise encouraging economic outlook, adding that it's too early to assess the deal struck in Washington last week. Following the Governing Council's policy meeting on July 26, he expressed confidence in "ongoing solid and broad-based" growth that should help bolster inflation.
The euro-area economy probably expanded 0.4 percent in the second quarter, maintaining its pace from the start of the year. Eurostat will publish a first estimate on Tuesday, along with July inflation and June unemployment.
Gauges of private-sector activity have recently hinted at moderating momentum -- not only because of concerns over trade but also due to increased bottlenecks. At more than 84 percent, capacity utilization in euro-area manufacturing is close to a record high. Factories in countries including Germany and France are running at an even higher rate.
Covestro AG, a German plastics maker that split from Bayer AG in 2015, beat profit forecasts for a 10th quarter in a row. Chief Executive Officer Markus Steilemann raised targets and signaled that cash running into billions of euros will be partially used for investment.
Economic confidence in the region's largest economy jumped to the highest level in five months, driven primarily by services and construction. Sentiment slipped in France and Italy, while an index for Spain fell to the lowest level in a year. A business-climate gauge for the region dropped to 1.29 in July from 1.38 in June.