Global Temperatures Are Poised to Break Another Heat Record
(Bloomberg) -- As nations struggle to agree on how to limit the carbon emissions that warm the planet, another year with record heat is firmly on the horizon.
The U.K.'s official forecaster is predicting that global average temperatures will be between 1.15 to 1.46 degrees Celsius above pre-industrial conditions between 2020 and 2024. That would most likely mean surpassing the annual heat record from four years ago.
The projections is yet more research that highlights the monumental task lawmakers around the world are facing and comes as the Australian wildfires are still raging. They have already pumped as much carbon dioxide into the air as all commercial aircraft emitted in 2018.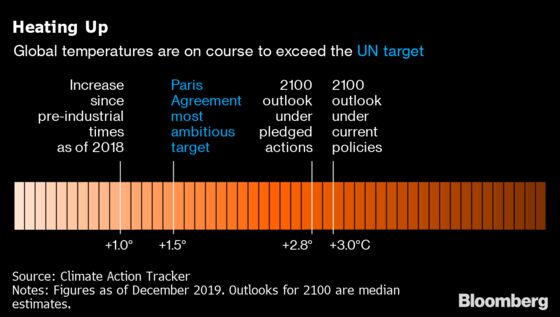 Currently the world is grappling with how to limit global warming to 1.5 degrees Celsius, the most ambitious target in The Paris Agreement that will still see extreme weather events become the norm.
"The latest five-year forecast suggests continued warming, consistent with sustained high levels of greenhouse gases," said Doug Smith, a Met Office fellow. "Uncertainties exist within the forecast, but most regions are expected to be warmer and forecast patterns suggest enhanced warming over land, especially northern parts of Europe, Asia and North America."
The 1-degree Celsius warming increase already recorded since the start of the industrial revolution represents the quickest shift in the climate since the last ice age ended some 10,000 years ago.