Global Payments CEO Waiting for 'Throw-in-the-Towel' Moment to Make Deals
(Bloomberg) -- In an industry where companies are rushing for mergers amid rising competition, Global Payments Inc. Chief Executive Officer Jeffrey Sloan isn't pressing for more acquisitions.
It's not that the company isn't on the hunt. In fact, management has a "full" deal pipeline, said Sloan, a former Goldman Sachs banker who has led Global Payments since 2013. After at least two acquisitions in the past six months, he's seeing some price premiums that are higher than he's willing to pay.
Valuations of closely held companies are "still pretty rich," while economic weakness in Europe and trade risk in China mean potentially lower returns from those regions, Sloan said in an interview. Instead, he sees more opportunities among publicly traded companies, especially when they report disappointing results, he added, declining to mention specific stocks.
"I would expect volatility to result in more attractive opportunities where people might want to kind of throw in the towel based on what they see heading forward," Sloan said. Until that happens, Global Payments would rather wait. "We have a very good stand alone strategy," he said.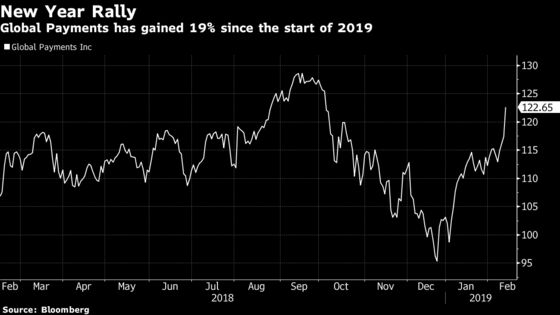 Payment processors have been under pressure to consolidate as they compete to offer more technology to their customers. Last month, Fiserv Inc. agreed to pay $22 billion to buy First Data Corp. to form the world's largest payments processor. In 2018, Worldpay Inc. merged with Vantiv Inc. to gain greater exposure to e-commerce retailers and small businesses. Revenue in the payments industry is projected to surge to $2.4 trillion by 2027, according to a report from Boston Consulting Group and Swift.
To Sloan, all of this consolidation is "a validation" of the firm's strategy to focus on providing technology that enables business transactions. This year, the company expects software, e-commerce and omni-channel businesses and faster-growth payments markets to account for about 60 percent of total revenue, up from 45 percent in 2018.
Shares of Global Payments rallied 4.5 percent on Wednesday after its 2019 revenue forecast exceeded the midpoint of analyst estimates. The company's technology investments and increasing revenue contributions from faster-growing businesses could drive further upside, Wedbush analyst Moshe Katri wrote in a research note after the results.
Among its rivals, Worldpay and Square Inc. are both scheduled to report results in the final week of this month.