Investors Aim $1 Billion at Young Companies Trying to Save Our Lives
(Bloomberg) -- The global boom in health-tech investments has hit Israel.
Three local venture capital funds have raised a total of almost $1 billion in recent months, placing bets on young Israeli firms that aim to revamp the world's healthcare industry that has been slow to adopt new technologies.
Leading the pack is aMoon Ventures, which has raised more than $500 million for its new fund dedicated to late-stage Israeli health-tech startups. Billionaire Marius Nacht placed the first $130 million and aMoon is in discussions with other investors to garner as much as $250 million more before the round closes at the end of the year, managing partner Yair Schindel said.
VC funding to digital-health startups has soared in recent years as regulators force healthcare providers to upgrade their infrastructure, coinciding with an explosion in personal data from mobile and wearable devices. By 2030, the healthcare industry will produce as much data as was generated last year across all industries worldwide, according to a report by UBS Group AG.
The challenge to these startups is increasing the efficiency of an industry -- worth some $2 trillion globally -- whose responsibilities are increasing as populations age.
"It's a huge market, and one that in certain areas is 30 years behind the curve," Guy Preminger, head of PwC Israel's technology division, said in a phone interview. "It will take a long time to change, but there's no doubt that the use of data and technology will make care more personal and help improve the lives of patients."
Historically an overlooked sector in Israel, digital health is garnering attention from tech entrepreneurs and investors. About 75 percent of the global deal flow goes to U.S. firms, though Israeli startups, along with those in China and India, are starting to grab an increasing share, according to the UBS report.
Prime Minister Benjamin Netanyahu is making healthtech a national priority. Earlier this year, the government earmarked 1 billion shekels ($272 million) to build the world's largest digitized database of medical information, with the aim of attracting partnerships with startups and global tech and healthcare companies.
The country is starting from an advanced infrastructure base. More than one-quarter of Israel's 6,000 startups are in the life-sciences industry, and its two biggest health-maintenance organizations have 6.7 million patients in their digital health records, 76 percent of the population. By way of comparison, Kaiser Permanente, an American health care provider, has a digitized network of about 9 million people in a country of 325 million.
Aside from the risk inherent to all startups, the challenge for Israel's digital-health sector has been finding funding sources to push startups past expensive regulatory trials.
Without such funding, these companies end up "selling themselves really early and for peanuts," Schindel, whose aMoon is working with Credit Suisse Group AG to locate investors, said in an interview at the fund's headquarters. "Had they been given the large checks, there's a good chance they could have reached value 10 to 20 times bigger. This is one of the bottlenecks we're trying to clear."
aMoon isn't alone. Israel Biotech Fund is speaking with investors for a new fund of up to $120 million. The Israeli VC firm Pontifax Ltd., whose major exits include Kite Pharma Inc. and Urogen Pharma Ltd., raised a $250 million fund earlier this year, and just closed another round. Pontifax cobbled together $150 million for late-stage investments, with a focus on European startups, according to a person familiar with the matter.
Pontifax counts American International Group Inc. as an investor in the new fund, the person said, speaking on condition of anonymity as the funding round isn't public. A representative for AIG declined to comment. Pontifax didn't respond to requests for comment.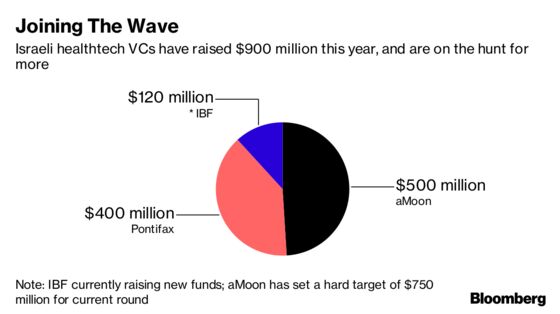 aMoon still has another eight weeks before it closes the current funding round but it's already started putting money to work, bankrolling four Israeli startups with $51 million.
"Our goal is to generate returns and help cure people, but also to build the next growth engine for the Israeli economy," Schindel said. "We ought to contribute more to global healthcare, because we can."