Global Currency Panic Bypasses Yuan on Better Virus Outlook
(Bloomberg) -- There was little sense of turmoil in China's currency market, with the yuan holding near its strongest level since January, even as emerging nation peers plunged.
The yuan was 0.17% weaker at 6.9460 per dollar as of 5:53 p.m. after strengthening as much as 0.36%. The Chinese currency has climbed 1.2% in the past two weeks, bolstered by an equity market recovery and bond rally. Monday's plunge in crude prices may also benefit China, given its status as a net oil importer.
"It is quite rare to see the yuan strengthening against a risk-off backdrop, which makes investors ask whether it is a safe haven for now" said Zhou Hao, an economist at Commerzbank AG in Singapore. "The relative yuan strength is largely driven by a better virus containment for now, rather than safe-haven activities."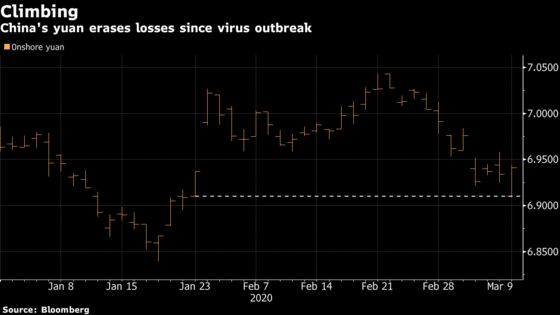 While new virus cases have accelerated in the rest of the world, the epidemic is showing signs of easing in China, where it began. That's giving Chinese policy makers room to shift their focus to getting a stalled economy moving again.
In comparison, the South Korean won, Malaysian ringgit and Indonesian rupiah all fell at least 1% on Monday as oil prices and global equities plunged. Elsewhere, the Australian dollar extended losses to tumble almost 5%, the biggest one-day decline since 2008.