Glaxo CEO Walmsley Buys Time as Strategy Gets Modest Backing
(Bloomberg) -- Emma Walmsley made the case for her leadership of GlaxoSmithKline Plc following a lukewarm reaction to long-awaited plans to restructure the pharmaceutical giant after years of underperformance.

With a potential activist investor challenge looming from Elliott Management Corp., Walmsley on Wednesday laid out why she thinks she is the right "change agent" to run the pharmaceutical business that will be left once Glaxo finally carves out its consumer arm via a de-merger.

Glaxo shares ended the day up only 1% in London, with investors requiring faith that the company will be able to follow through on its drug development pipeline, which has languished behind peers such as AstraZeneca Plc. They were little changed in early trading Thursday.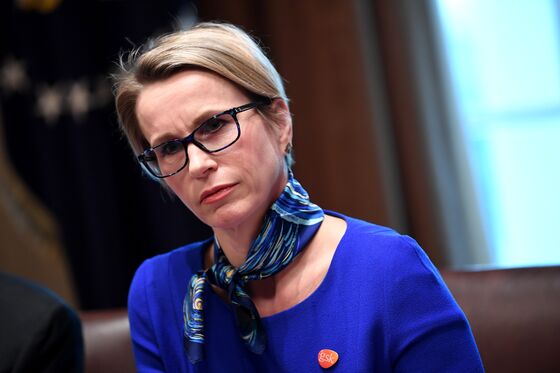 "I am very aware that GSK shares have underperformed for a long period," Walmsley said Wednesday on a call with reporters. During a later investor day presentation, she said Glaxo has "undertaken an enormous amount of work to fix longstanding issues across the company, which have been a direct cause of historic underperformance and negative impact to total shareholder return."
Some analysts and investors had questioned in recent months whether Walmsley, 52, was the right leader for the new company. The CEO, who isn't a scientist and has a background running consumer businesses both at Glaxo and L'Oreal SA, played down those concerns, pointing to her management team made up largely of top scientists.
"I am a change agent, I am a business leader, and I am very excited about the new plans," she said on the reporter call.
The U.K. company will list the consumer unit, which makes products such as Sensodyne toothpaste and Nicorette gum, in mid-2022 on the London Stock Exchange. It will keep as much as 20% of the business as a short-term investment to be sold later to strengthen the balance sheet.
Glaxo will reduce its dividend for the remaining business by about 30% next year, its first payout decline in 20 years. It's a smaller cut than analysts expected. Some investors were also cheered by the five-year projections for "New GSK" -- the biopharmaceutical and vaccines business left after the spinoff. It expects to deliver annual sales and adjusted operating profit growth of more than 5% and more than 10%, respectively.
"This updated strategy moves the needle at GSK, from a focus on restructuring to a story driven by growth," Mike Fox, senior fund manager at Royal London Asset Management and a Glaxo shareholder, said by email. "The targets show that management are prepared to be accountable for this growth."
The moves are part of a strategy to sharpen Glaxo's focus on drugs for cancer, HIV and other diseases. Investors had been waiting for clarity on the plans since the company opted in 2018 to combine its consumer unit with Pfizer Inc.'s and list it as a separate business.
Scrutiny of the decisions increased after it emerged in April that Elliott, the U.S. investor known as an agitator for change, had taken a substantial stake. Elliott declined to comment on the plans Wednesday.
"The comment on being a change agent is a clear shot across the bow for the activists," said Ketan Patel, a fund manager at EdenTree Investment Management Ltd., which holds Glaxo shares. Patel welcomed the smaller-than-expected dividend cut, but said the company could be clearer on timelines for pipeline delivery.
Walmsley dismissed any concerns of the spinoff leaving the company more vulnerable to a takeover, adding that it will look for deals over the coming years to expand and help rebuild the pipeline. Since taking up the CEO role in 2017, Walmsley has appointed new staff to fill 85% of the top 125 roles at the company, 30% through external hires.
Adding to the pressure for change, the company has disappointed on Covid-19. Many thought that Glaxo, the world's biggest vaccine maker by revenue, would be on the front lines of the effort to create a shot.
Instead, the company opted to partner with other drugmakers to use its adjuvant technology -- substances that can enhance the response to vaccines -- and there was an early stumble in its partnership with Sanofi.
Still, Glaxo's vaccine business has some promising candidates in its pipeline. Vaccines against respiratory syncytial virus, for which there's no approved shot globally yet, could create new blockbuster products -- drugs with more than $1 billion in annual sales. Revenue for Shingrix, a shot against shingles that is one of Glaxo's bestselling products, is expected to double in the next five years.
Walmsley said that the loss of a patent on HIV drug dolutegravir in 2028 will be offset by sales from the late-stage pipeline. Through its ViiV Healthcare arm, Glaxo has made strides in HIV in recent years. On cancer, the company has gone from having no oncology drugs on the market when Walmsley took the helm to having three. Her predecessor had sold the business to Novartis AG.
Not everyone is convinced that Walmsley's strategy for Glaxo breaks any new ground. Emily Field, a European pharmaceuticals analyst at Barclays Plc, said in an interview with Bloomberg TV on Wednesday that the company appears to just be "doubling down" on the assets it already has.
The dividend will be cut to 55 pence in 2022 -- an aggregate number that includes some contribution from the consumer business. The payment from New GSK will be 45 pence in 2023. Glaxo also said it aims to deliver sales of more than 33 billion pounds ($46 billion) by 2031, which excludes any revenue from early-stage drugs or Covid-19 products.