Glaxo's CEO Set to Highlight Cancer Ambitions With Key Drugs
(Bloomberg) -- GlaxoSmithKline Plc Chief Executive Officer Emma Walmsley is moving quickly to rebuild the U.K. pharma giant's position in cancer, following an agreement last month to buy drugmaker Tesaro Inc. for $5.1 billion.
In a presentation at a San Francisco conference Tuesday, Walmsley plans to discuss the potential for three key oncology treatments to hit the market within the next two years, including two from Tesaro, according to a person familiar with remarks she's scheduled to give. Those drugs could start to help Glaxo's sales growth outlook starting next year, said the person, who asked not to be identified because the information isn't public.
With Hal Barron as her new research chief, Walmsley has signaled plans to accelerate the company's efforts in oncology, which has become one of the industry's most lucrative areas. Under her predecessor, Glaxo sold its cancer-drugs business to Novartis AG in 2015 for as much as $16 billion as part of a broader asset swap, yet held on to its pipeline of early-stage therapies.
The company also has terminated or divested about 80 drug programs since she took over in 2017, the person said, up from an earlier total of about 65. Glaxo has been pruning its portfolio of medicines to sharpen focus on those that look most likely to succeed.
Walmsley has been busy shaking up Glaxo's structure and strategy. The drugmaker last month announced plans to split up by creating a consumer-health venture with Pfizer Inc., separating brands like Sensodyne toothpaste and Panadol painkillers from HIV and asthma medicines.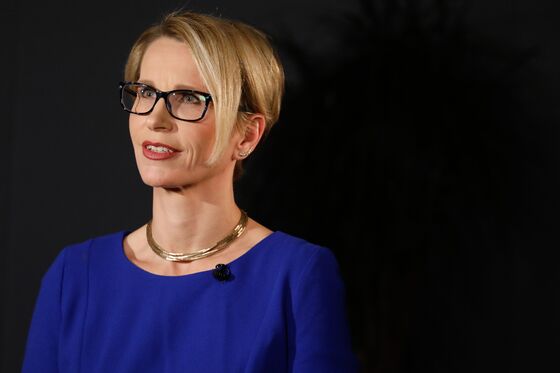 One of its key cancer assets is an experimental treatment targeting a protein called BCMA. Another drug at the heart of Glaxo's plans is Tesaro's ovarian cancer treatment, Zejula, which the company is looking to use in new areas. A third is Tesaro's so-called PD-1 inhibitor. The U.K. company has 12 other cancer assets in the pipeline.
Zejula could work on multiple forms of the disease, including tumors of the lung, breast and prostate, according to Glaxo. A PARP inhibitor, the drug functions in a similar way to AstraZeneca Plc's Lynparza by blocking a mechanism tumor cells use to repair their DNA, inhibiting or halting growth.
The class of drugs is an area "we think is undervalued and where there is tremendous opportunity for further growth," Walmsley said in a Bloomberg Television interview in San Francisco to air Monday.
While Glaxo has emphasized the benefits of the Tesaro deal, saying the company complements its existing immune-oncology portfolio, the British pharma company saw its stock sink the most since 2008 on the day it was announced amid concerns about the price it's paying.