Gilead's $16 Billion Virus-Fueled Jump Draws Warning of Fall
(Bloomberg) -- Gilead Sciences Inc.'s market value is closing in on $100 billion as the biotech jumped after a Wednesday night coronavirus update. But Wall Street is sounding the alarm for investors that the good times may not last.
Plans to start two late-stage studies for remdesivir, an experimental treatment for the coronavirus, are spurring fresh gains for Gilead. A month-long frenzy driven by hope that the biotech may eventually come up with a cure for the rapidly spreading Covid-19 virus has spurred a more than 20%, or roughly $16 billion, gain for the biotech.
"Be warned, the more it goes up, the more it has to fall at any sign of resolution," RW Baird analyst Brian Skorney cautioned Gilead investors in a note. He rates the stock neutral.
"While we hope remdesivir proves efficacious, and believe it may have a good shot to do so, the commercial opportunity here is largely unknown," Skorney said.
The stock jumped as much as 5.6% to $78.88 on Thursday before paring gains, bumping against October 2018 highs for the second day.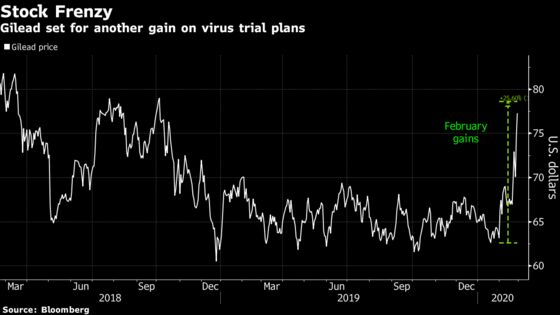 Baird wasn't the only firm on Wall Street cautioning against Gilead optimism. "The stock is extended here," Jared Holz, a health-care trading desk strategist at Jefferies warned. And the run-up may not be over yet, in "the current landscape with most of the S&P components reeling from macro-related pressures, stocks with theoretical benefits/upside (despite significant financial impact) may continue to ride for a bit."
"Remember Ebola?" Maxim analyst Jason McCarthy said, reminding investors of similar hype around a handful of drugmakers in 2014 and 2015. He remains hold-rated on Gilead. Meanwhile, Barclays started research coverage of Gilead at underweight late Wednesday, saying the stock surge "seems overdone."
Small-cap companies that have touted their potential to treat coronavirus or prevent its spread also rallied, triggering a handful of volatility halts. Co-Diagnostics Inc. and Vir Biotechnology Inc. both doubled their stock price intraday. Alpha Pro Tech Ltd., Novavax Inc., Inovio Pharmaceuticals Inc. and Moderna Inc. are all producing double-digit gains today.
Skorney was critical of their efforts, too. "Of all the companies with massive upside moves on Covid-19 interventions, Gilead is, by far, the most plausible to achieve anything besides an overpriced follow-on offering."
As if on cue, Co-Diagnostics this morning announced the sale of an additional 470,000 shares at $9 each.