Gilead Generates Street Skepticism Ahead of Covid-19 Results
Results from a study of Gilead Sciences Inc.'s experimental Covid-19 medicine are top-of-mind for Wall Street as cases surpass 1.35 million and deaths approach 76,000.
With a potential vaccine more than a year away, Gilead's antiviral remdesivir offers one of the nearest-term hopes for a treatment in the pandemic that's sweeping across the globe and putting many countries, including most of the U.S., on lockdown. Results from late-stage studies out of China are expected this month with results from U.S. trials following in May.
After the company's valuation surged more than $20 billion from late January to early March, some Wall Street analysts are cautioning there may not be much more room for shares to gain. The stock has traded sideways since hitting a two-year high on March 6.
"We see a highly negatively skewed risk/reward," Barclays analysts led by Carter Gould warned ahead of the April data. They rate Gilead underweight.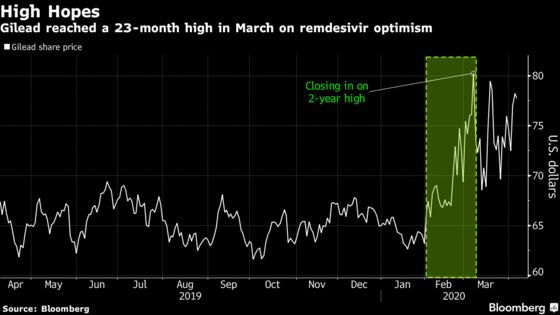 Barclays is assigning a 20% chance that the two studies out of China --- one in patients with mild to moderate symptoms and another in the severely ill -- will succeed. Even if the pair hit the mark, Gilead's gains could lead to a sell-off on "the commercial realities facing remdesivir," the analysts said. That could include a complex manufacturing process and the difficulties pricing and selling a drug for a global pandemic.
Shares of Gilead fell as much as 5.4% on Tuesday, the biggest intraday drop in almost two weeks as the broader market rallied.
Covid-19 patients in the placebo-controlled studies are likely getting treated after the virus has already reached the height of its powers in the body, instead of before when a treatment could potentially be more effective, Barclays said. If the two studies fail, Gilead shares could fall back to the low-$60 range where they traded before the crisis.
Wall Street investors have been scrambling to position themselves ahead of the data. Gilead appeared not only as a top long pick for investors in 2020 but also among the top short picks in a JPMorgan Chase & Co. buy-side survey. Options data suggest the stock could swing 17% in either direction by May 1.
Bearish bets against Gilead peaked at $1.97 billion on March 19, according to data from financial analytics firm S3 Partners. The stock was ripe for a short squeeze two weeks ago but that's no longer the case, S3's Ihor Dusaniwsky said Monday. Gilead is still one of the top three largest short stories in the biotech sector with $1.77 billion, or 1.8% of its float, shorted as of Monday, he said.
Even the bulls have doubts about the upcoming data. Evercore ISI analyst Umer Raffat, who has an outperform rating on the stock, said he expects the study in severely ill patients "may underwhelm," though he said remdesivir could help those who received the drug early enough in their course of treatment. Optimism that Gilead has started ramping up production because it knows the medicine works is also unfounded, he said, noting management confirmed they haven't seen results from the Chinese trials.
For antivirals, "it is NOT about the overall trial result," Raffat said. "All that matters is being able to identify the time point post-infection until which you can initiate an antiviral and expect efficacy."