Giant French Insect Farm Managed by Robots Wins New Investment
(Bloomberg) -- Venture capital investors are putting $125 million behind plans to build the world's biggest insect farm that's entirely run by robots, as startup Ynsect caters to the growing demand for bugs.
The insects aren't meant for humans to eat -- Ynsect raises a type of beetle that goes into feeding fish, pets and fertilizing plants.
The fundraising round, which will be spent on a farm in Amiens, in northern France, as well as a separate factory in the U.S., is led by investors including Belgium's Astanor Ventures, alongside France's Idinvest Partners and Bpifrance.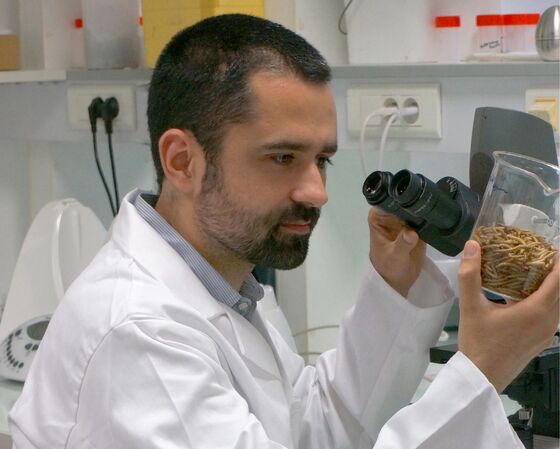 "We tested a dozen species, like butterflies and crickets, before focusing on the mealworm beetle, which is the best in terms of production process and health benefits," said 36-year-old Antoine Hubert, who co-founded the company in 2011 and has a background as an engineer in agriculture technology. Rivals are experimenting with algae, types of fungi, flies and crickets, he added.
The new farm will produce about 20,000 tons of protein annually from insects, and will be largely automated. Machines will feed the bugs, monitor their health and harvest them as one-inch larvae that are then boiled and processed into a brownish powder that goes into making plant fertilizers and food for animals as well as shrimp, salmon, and trout.
Listen: We'll All Be Eating Bugs Sooner Than You Think
Such production is already underway, though at a smaller scale, at Ynsect's workshop in the wine region of Burgundy in France. The company already uses sensors and predictive mathematical models to automate bug farming. It recently landed a $70 million contract and needs to increase capacity to deliver.