Ghosn's Jail Time May Stretch to Months in Japan's Legal System
(Bloomberg) -- Carlos Ghosn has already been detained without charges in Japan longer than would be permitted in the U.K. for a suspected terrorist.
Since being arrested last month on suspicion of under-reporting his income, he has been held for 15 days. In the U.K., police can hold suspects without charge for up to 96 hours for serious crimes such as murder, and up to 14 days under the Terrorism Act.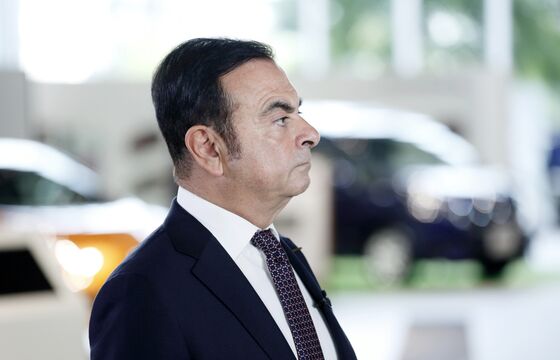 The powers given to police and prosecutors to incarcerate suspects during an investigation without charging them are unique in the developed world, according to the Japan Federation of Bar Associations. The group has called for drastic changes to the nation's criminal justice system. Amnesty International and the UN Committee against Torture have condemned the practice, which has resulted in false confessions.
The globe-trotting former chairman of Nissan, a household name in Japan, may still have a long time to wait for his freedom -- pre-trial detention of more than a year isn't unusual in Japan, according to Issei Sakamoto, a lawyer with Nakamura International Criminal Defense in Tokyo.
Ghosn has denied through his lawyers reports that he passed on trading losses to Nissan. He also has denied under-reporting income, according to Kyodo News. He is being held in Katsushika in northern Tokyo, in a complex that also houses convicted prisoners.
When the 20 days allotted for questioning following his initial Nov. 19 arrest expire on Dec. 10, prosecutors will seek permission from a judge to re-arrest him on suspicion of a similar offense relating to the period from April 2016, according to the Sankei newspaper, which cited people familiar with the matter. That would start the clock on what could be another 10 or 20 days of questioning.
"It is a fairly common practice to arrest suspects on an initial charge and then interrogate them until they confirm what the prosecutors suspect, implicate others or otherwise provide information of more serious crimes," said Colin Jones, a professor at Doshisha Law School in Kyoto and author of a book on the Japanese legal system.
There's no limit to the number of times a suspect can be re-arrested, as long as a separate crime is cited in each case, Sakamoto said. Also, there's no limit on how long a suspect can be held after indictment, though time spent in custody is considered in sentencing, he said.
Those in powerful positions are hardly exempt from pre-verdict detention -- one well-known case being that of Muneo Suzuki, a lower-house lawmaker arrested in 2002 on suspicion of bribery who was held for 437 days before being granted bail and eventually found guilty. Senior bureaucrat Atsuko Muraki was awarded damages after being detained for five months in 2009 in connection with fraud charges that turned out to have been fabricated.
Suspects in Japan can't apply for bail until they are indicted, and they often are refused, especially in cases where they are considered likely to flee or to tamper with evidence. Those who don't confess to a crime are less likely to be released on bail. The website of the U.S. Embassy in Japan says bail is almost unheard-of for foreigners.
"Bail is extremely important in creating the environment for a fair trial," said Noriyuki Saio of the Japan Bail Support Association. Failure to allow it risks weakening the position of the accused, resulting in too severe a punishment, he added. "It would be particularly significant in this case," he said.
In the U.S., bail is often accessible to wealthy suspects, while the less affluent remain in custody because they lack the necessary funds, according to Human Rights Watch.
While Ghosn is likely preoccupied for the moment with questioning and meetings with his lawyer, his everyday life could change considerably if he is charged and remains in detention. Muraki said her biggest problem while remaining in jail for a lengthy period was filling her time.
"It's a weird situation," she said in a 2013 interview with Bloomberg. "You don't have to work. You don't have to do housework. They give you three meals a day and do your laundry." With no TV available, she used her time in the lock-up to read 150 books.