Ghosn's Arrest Has Nissan Ally Renault Weighing Future
(Bloomberg) -- Renault's board convened for a crisis meeting in Paris to discuss the future of the automaker's alliance with Nissan Motor Co. after Chairman Carlos Ghosn's arrest in Japan for alleged financial improprieties drove a potential wedge into the relationship.
Board members are expected to appoint interim leadership at the French automaker, which Ghosn had been pushing to merge with Nissan to solidify their two-decade-old alliance, as Bloomberg reported in March. Earlier, Nissan informed Renault that it was investigating potential financial wrongdoing at the Dutch-domiciled Renault-Nissan venture, people familiar with the matter said.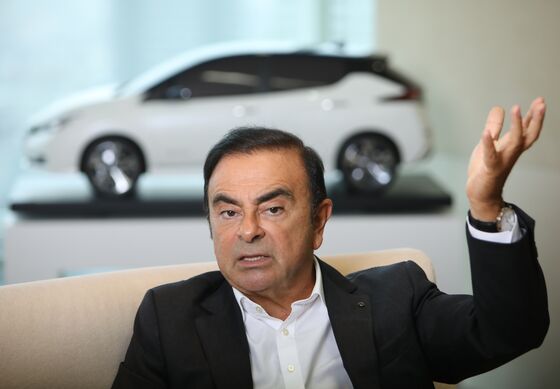 Back in Japan, where Ghosn has remained in custody since his arrest Monday, more details of his alleged transgressions began trickling out in local media. Combined, they painted a picture of an executive who dipped into company funds to bankroll a lavish lifestyle, from luxury residences dotted around the globe to money funneled into investment funds and family vacations. Ghosn hasn't been seen in public and hasn't responded to the allegations.
The revelations, which followed a months-long internal probe, put key stakeholders in a bind because there's no obvious successor. While all sides rushed to assure that the alliance was solid, Ghosn was the linchpin holding the partnership together, even as the leadership at Nissan publicly balked at the idea of an outright merger. The French government, which owns 15 percent of Renault, signaled it will protect the automaker, which has benefited hugely from its participation in the French-Japanese pact.
Finance Minister Bruno Le Maire said he will meet with management of Renault and state representatives on the board of the company to put in place interim governance. While the French government isn't demanding Ghosn's formal dismissal, he is no longer in a position to run the automaker, Le Maire told French radio.
President Emmanuel Macron has already said he would remain "extremely vigilant" regarding the stability of the Renault-Nissan alliance. One immediate step will be to fill the post of Renault CEO, which might fall to Chief Operating Officer Thierry Bollore, whom Ghosn himself had previously called a "good candidate" to eventually replace him at the French carmaker.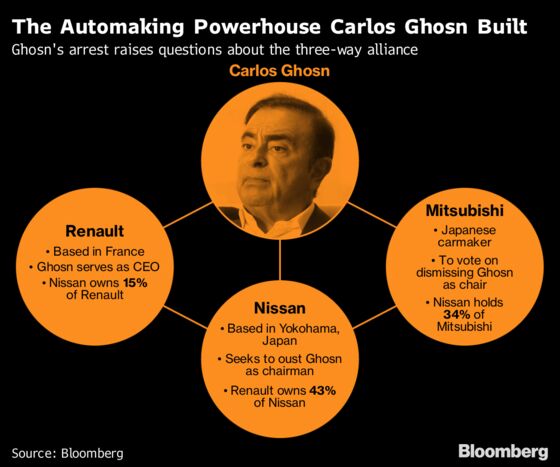 Bollore will be proposed at the meeting tonight as Renault's interim leader, together with Philippe Lagayette, an independent board member, as non-executive chairman, according to people familiar with the plan, who asked not be identified ahead of the meeting.
Le Maire said the government will seek evidence from Japanese authorities, after the French side was all but blindsided by the probe and subsequent arrest Monday. The board of Renault and the Macron government were both caught unaware by the allegations, according to people familiar with the matter. A Renault spokeswoman declined to comment on the minister's plans.
The alleged wrongdoing may have have been more widespread. According to Nikkei, Ghosn may have received unreported funds from the Dutch Renault-Nissan venture amounting to about 100 million yen ($880,000).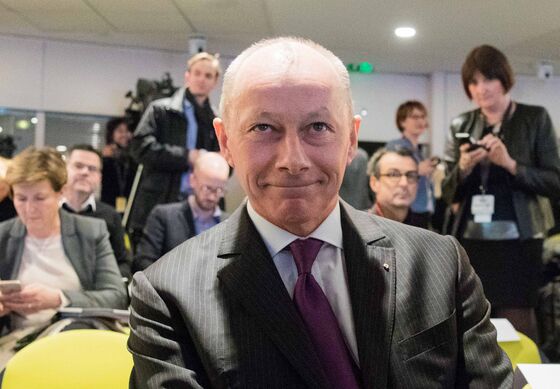 In a memo to employees sent on Monday, Bollore expressed "full support for our chairman and CEO," calling the alliance an "industrial gem that must be protected and nurtured." Renault confirmed the content of the letter, which was cited in full by the Financial Times.
While there's little doubt that Ghosn's ride atop the global car industry has come to a rapid halt, there's less clarity on the nature of his transgressions. Japanese broadcaster NHK said Tuesday that Nissan paid "huge sums" toward Ghosn's residences sprinkled across the globe. The real estate in Rio de Janeiro, Beirut, Paris and Amsterdam, had "no legitimate business reason" and Ghosn wasn't paying at least some of the rent, the report said.
At a late-night press conference in Tokyo Monday, Nissan Chief Executive Officer Hiroto Saikawa declined to give details on the charges, only saying that had both understated his income and misused company funds, including expenses and investment funds.
All told, Ghosn failed to declare some 5 billion yen in his income on Nissan's official securities reports submitted over five years starting from 2011, prosecutors in Tokyo said Monday. According to Japanese law, Ghosn can be held in custody for up to 23 days without being charged.
The sudden downfall of the larger-than-life executive has spooked investors. Nissan dropped as much as 6.5 percent in Tokyo Tuesday, while Renault continued its slide, falling as much as 4.8 percent in Paris. On Monday, the French stock fell to the lowest since January 2015.
Nissan's credit rating is also at risk as a result. Standard & Poor's put its long-term A rating on watch for a possible downgrade, saying profitability might weaken substantially in coming years if the alleged misconduct damages the brand image enough to seriously depress unit sales or hurt the alliance. Moody's Investor Service separately called the probe "credit negative" for Nissan, though Renault's outlook is unaffected, it said.
Over the course of almost two decades, Nissan has grown into the larger of the two main partners by deliveries and sales -- but it has less say. Renault owns just over 43 percent of Nissan, compared with the Japanese company's 15 percent stake in the French partner. It also boasts full voting rights in the alliance, while Nissan has none. That lopsided structure was always a point of contention between the French and the Japanese side, and Ghosn was in no small part responsible for preserving the peace between both sides.
"The issue is who's going to control the alliance, and Saikawa has clearly put his cards on the table," said Kenneth Courtis, chairman of Starfort Investment Holdings, an investment, private equity and commodity group.